The story of Google destroying RapGenius.com search engine rankings went viral, or almost. This story scared a lot of Search Engine Optimization "experts" who also use shady tactics to get better rankings on Google, it has also put a big smile on faces of many internet marketers who work very hard on producing great content and who stay true to white hat SEO.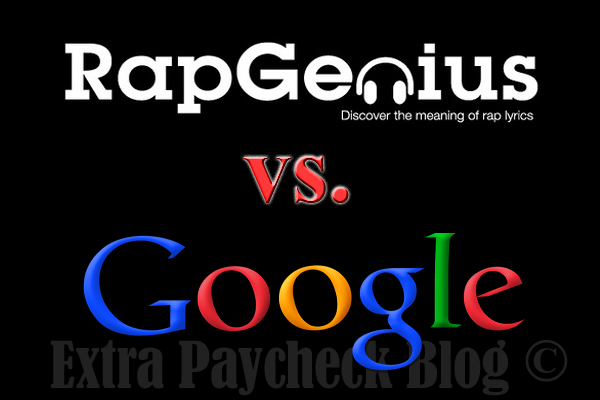 Brief:
Rap Genius (RG) offers to tweet messages for bloggers who will add links to Rap Genius from their blogs
Bloggers add irrelevant links to lyrics on RG website
Rap Genius gets 1st page rankings on Google and other search engines
Google understands it has been "gamed" and punishes RG by kicking them off the 1st page on Dec. 25th, 2013
When Google punished RG, the site went to to the 6th page of search results – which is pretty much the same as not having a website at all. How many people do you know who go past 2nd page when they search something on Google? Rap Genius get very upset about this and I am sure Andreessen Horowitz who invested $15 Million in RG in 2012 wasn't very happy either. Juicy details on TechCrunch.
What Can We Learn?
Google does care about backlinks. Sites with more backlinks to them will rank higher. How many links you get and where you get them is another story but the main point here is: Links Do Matter.
Rap Genius is Back On Page One, 10 Days Later.
Rap Genius got a nasty Christmas gift from Google and most webmasters believed it was the end for the lyrics site, however only 10 days later Google put Rap Genius back to the 1st page of it's search results, life goes on as usual. How exactly did it happen? As soon as RG lost its rankings, they started looking for a solution immediately. They apologized to Google for what they have done and they went on to remove all "unnatural inbound links". Using a a link scraper, Google Webmaster Tools and I am sure some other tools. Rap Genius found over 177,000 links to its site and they had to sort through them to understand which links were OK and which links were Unnatural (from Google's point of view, of course).
They compiled lists of links and started e-mailing blog owners and asking them to remove links to RapGenius.com. Whenever the owner of the blog/site couldn't be reached, they simply disavowed spammy links using Google Webmaster tools.
It seems like Google was satisfied with the results and the efforts from RG because the site rocketed back to Google's First Page almost instantly.
Say Goodbye To Your Site if Google Penalizes it.
All is well that ends well, however this story wouldn't end well for most of us, small website owners.
When I was just starting the Internet Marketing career and didn't know much about proper search engine optimization I also tried to "game" Google. Most marketers did this at some point simply because they didn't know any better. I got some spammy backlinks to my sites and sure enough I got great rankings! It was all fun and dandy while it lasted but eventually my sites got caught in the Google spam filters and my rankings vanished overnight. Google didn't push me to the 6th page of search results but rather to the 126th page, in some cases it de-indexed my websites completely. That's when I learned about the infamous Google sandbox.
I have done my research, asked questions on Google support boards and I understood I shouldn't have used those spammy links, but it was too late. I removed all "unnatural" links whenever I could but my websites never came back. I have spent countless hours trying to recover but in the end I simply had to abandon those websites because nothing worked, nothing helped and Google didn't want to hear anything about my sites.
Another Thing We Can Learn
At this point I realize that if your website is not as hot and popular as Rap Genius with Millions of dollars in investments –  you will be banned for life if you ever do anything shady. This is actually great because it means all low quality websites with shady SEO will not make it. However, it makes me sad that Google makes exceptions and huge websites only get a slap on the wrist when smaller websites would be doomed and lost forever. If Google cares so much about quality and websites violating their terms – shouldn't this apply to ALL websites?
Conclusion
Stop looking for ways of gaming Google. When I understood this little secret I actually started getting better rankings – naturally and for the long term. If you want good rankings you should follow these easy steps:
Create unique, sharable, quality content.
Post consistently and try to post at least a few times a week.
Share your content on proper social platforms.
If you content is good people will LIKE, Share, Pin and Re-blog it. People will link to it naturally. Google will love you and reward you with Good rankings. Sure, it requires work and time but it's totally worth it in the long run.
Have anything to add? Comment below.
– Alex