Copy My Websites Review
You somehow stumbled upon the Copy My Websites sales page, got really excited by their unbelievable offer to make money online without any work and decided to google it to figure out if they're a scam. Well it was a really smart move because Copy My Websites is definitely a scam and you just avoided wasting your hard earned money on their program.
Of course, I won't simply claim Copy My Websites is a scam without proving it all to you. I have done similar reviews before and sometimes have dig deep to find my proofs. But these guys are so bad, they give you all the proof you need, directly on their sales page!
So let's get started!
Creating Fake Scarcity
The counter you see on the website is fake – once the time runs out nothing happens. You can go back to their page tomorrow, and the offer will still be there. It will be there in a week. I can tell you they have been around since October 2016, when they created their first video. It will be there until their scam gets shut down – the authorities simply don't have the time to chase after every single scam because they pop up so fast. CopyMyWebsites are simply putting pressure on you, to rush you into making a bad decision. They want you to feel you are going to miss out if you don't act NOW.  Don't fall for that – it's a cheap trick used by many scammers out there.
Copy My Websites Can't Spell
Have you seen their money back "Guarentee"? They can't even spell guarantee right! I don't know if they think that by making a typo they are actually not liable to give you you money back. Or if they simply are so incompetent that they can't even spell.
We all make typos and mistakes but don't you think a serious company would proofread their sales page?
Their own disclaimer urges you against it
Usually, scams have a disclaimer page somewhere very hidden. And usually that page is not accessible in any way from their sales page. However, this scam is so badly made they simply put their disclaimer on their sales page, and made the text very dark in hopes you won't bother reading it. Here's a screenshot of the Copy My Websites disclaimer:
They said it first – "the typical purchaser does not make any money using this system". It's right there. They admit you won't make any money using their program. So why even bother buying it?
And you know what else they have "hidden" in dark letters on their sales page? This:
To sign up to their program, you have to give them your phone number – there is no way around it. But by agreeing to give them you phone number, you are also agreeing to them contacting you anytime. And you agree that you might be charged for that phone call. It's a very worrying clause, because such scams exist when a paid number calls you, you pick up the phone and stay on the line for 5 minutes and you end up with a 50$ surcharge on your phone bill the next month. I'm not saying they will do that, but with such a disclaimer it's a real possibility. They can now legally call you and charge you a "consulting" fee.
I recently posted about a Copy My Commission review which is a scam and ironically both have a very similar name.
Fake testimonials and pictures
All the people you hear saying they earned money using the Copy My Website system are fake – they simply paid actors to say these words on camera – you can find people to do this for as low as 4$. All the income "proof" you see is also fabricated. Here's an example I found: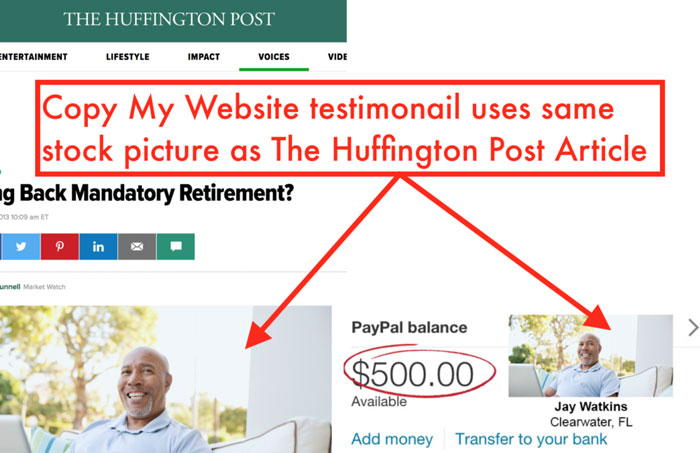 Jay Watkins never bought the Copy My Website program. He doesn't live in Clearwater, FL. And he never made the 500$ with them. He doesn't even exist! The guy on the photo probably made his money posing for stock pictures. A picture that was previously (in 2013!) used in a Huffington Post article about retirement. The creators of this program probably just googled for "old man in front of computer" or something like that, grabbed the picture and claimed some guy named Jay Watkins made money with them. It's very obviously all fake.
I could go on, I could point out every little detail about how they faked this or that and lied to you in hope of tricking you. It's so badly done, it is very obvious. But if I do that, this is going to end up being a 10 000 word article, and I think it's already pretty evident they are not selling anything of value. It's already getting long…
What they are actually selling
The information they give you in the program is very basic. It's available online FOR FREE, and is not worth much because it's not going to make you rich anyway. They are simply setting you up with a very basic website that promotes a digital product from Clickbank. A website that nobody will ever see, a product that nobody will ever buy. You will never many any money that way.
How do I even know this? Even though I didn't purchase this program I can show you what's inside Copy My Websites training:
I'm not a skilled hacker, they simply made the videos public on their YouTube channel. So I didn't even have to spend my money to make sure what they are offering is garbage. I repeat : Copy My Website is a waste of time and money.
You can set-up a basic website for free and within a minute. Then you can signup to Clickbank for free and pick any product that you want to promote. You can also do this with Amazon and many other online retailers. No need to spend money on Copy My Websites for this basic information. What they aren't telling you that simply setting up such sites does not bring money, at all. You need to create content and you need to get targeted traffic to your website in order to see any kind of income. You can learn how to do these things in my free 5 day course.
I've been doing this for 9 years and I wish there was a shortcut to riches but there isn't one. You can make money online (and a lot of money) but you will need to put in the time and the effort.
Copy My Websites Refund
Although CopyMyWebsites claims they'll refund your money if you aren't satisfied, I've stumbled upon several unhappy customers who claim that the support simply ignores their refund requests.
Copy My Websites is sold through a ClickBetter marketplace. ClickBetter offers you a 60 day refund simply because they're following the law of several states that require this practice. If you want to get a refund you should contact the ClickBetter support (instead of copy my websites support) here: http://clickbetter.com/contact.php or by phone: 1-800-719-1832.
They also advise you to have this information on hand in order to speed up your refund request: your first and last name, your email address, a copy of your receipt and order ID number and the reason for requesting a refund or cancellation.
Recommendation
As I've mentioned I've been making a living online for the past 9 years. Unfortunately I've been scammed for a lot of money until I started understanding how it all works. When I found a program that works I even posted my own success story when I was able to make $400 in 1 day after 3 months of work.
The good news is that you can now use the same training completely free. Check out my full review here. Put your credit card away, you won't need it here .
Do you have anything else you'd like to add? Use the comment form below 😉