There has been a lot of hype around the Empower Network in the past few years, and thousands of comments and opinions about EN, positive and negative have cluttered the Internet. I first stumbled upon EN when I read some pretty bad reviews from their old members, like this one. There are hundreds of others.
So I've decided to add yet another "review" out there. I will explain how EN works and how I feel about this program. I am sure this post will help you make up your mind about Empower Network.
What is Empower Network.
EN uses the MLM strategy – multi-level-marketing, often referred to as network marketing or pyramid selling. The main goal of Empower Network is to recruit as many members as possible (of course all members pay a fee in order to remain a member). You, as an EN rep will receive a commission every time you refer a new member to the company. The person who recruited you will also receive a small commission from people you recruit and the guys at the top receive a commission from every single member that joins the Empower Network.
Is Empower Network a Scam?
Pyramid schemes are illegal in many countries, including the USA and Canada. However, a pyramid scheme becomes a legit MLM company when they introduce a "real product" that could be sold.
I was approached by quite a few EN promoters and it was really hard to find out what Empower actually sells. This is because EN sells something really obscure, at least in my opinion. Empower Network sells access to their private blog platform, Viral Blogging System, at $25 per month. Sure, 25$ per month isn't much at all (although still money) but Empower Network expenses don't end there.
Empower Networks does a lot of upsells and this is where they start making the real money. Once you've agreed to pay $25 per month for their blogging system, you will be offered to sign up for their $100 per month Inner Circle program. Just to warn you, every single upsell is very hyped up and you might be compelled to take out your credit card once again.
At this point, you are at $125/month. Now they will try to sell you the High Ticket Academy at $495, the Costa Rica Intensive at $500, then the $15k Formula at $1,000 and of course the infamous Masters Course at "only" $3,500. I have no doubt that you will learn a few interesting things in this training, but it concentrates on teaching you how to sell Empower Network to others…. Do you remember that old joke:
– Man, I just made million dollars by writing a book and selling it to people!

– What's the book about?

– It's about writing a book and selling it to people!
I don't have a problem with EN for teaching its members about promoting EN itself, however I have a problem with the fact that they only teach you to promote EN, instead of teaching you how to start a real online business. You should know that you will also need to pay $19.95 per month to have "the privilege" to promote Empower.
Empower Network Total
To go all-in and "unlock the full potential" you will have to pay $5495, then you will have to keep paying $144.95 every single month. And that's without any guarantees about your potential earnings. Seems pretty expensive, doesn't it?
Problem With Viral Blogging Platform.
I must admit – the name Viral Blogging Platform sounds good, even though it has nothing to do with being viral. In fact, the Empower Network blogging network is actually pretty useless, since it's been "banned" by search engines like Google.
EN claims that their amazing, easy to build blogs are set-up in such way that they will be easy to rank and market. Do yourself a favor, go to Google.com and search for Empower Network Review. You will NOT see any blogs from EN members, because Google sees these blogs as spam and doesn't rank them on the first page. You will probably find their blogs on 8th page of Google, which is completely useless. When was the last time you went to the 8th page of Google? 98% of people who use Google search never go past the first page.
You don't even need to look for their blogs. Do a Google search for "Empower Network" – their own website is not even ranking on the first page! How bad is that?
Here is another issues with this blogging system – you need to pay for it. All most popular platforms are free (WordPress, Blogger, etc).
And setting up a full site (or blog) is not as hard as Empower Network claims. I recently made a video of how to make a Search Engine Optimized blog in less than a minute and completely FREE using the SiteRubix system.
SiteRubix also allows you to transfer your site to your own hosting, which means you will be in full control of your site/blog. Empower Network does not allow you to do so and they control your site. This means they can shut you down whenever they want and they will not let you transfer your blog anywhere is you decided to leave their program.
Can You Make Money With Empower Network?
Empower Network published their members' earning and it doesn't look that good. 83% of EN members make LESS than a $1,000 per year! Folks, that's less than $85 per month… Not much, especially if you are paying almost $150 per month to be a member of Empower Network. EN also claims that only 1% of their members make over $30,000 per year.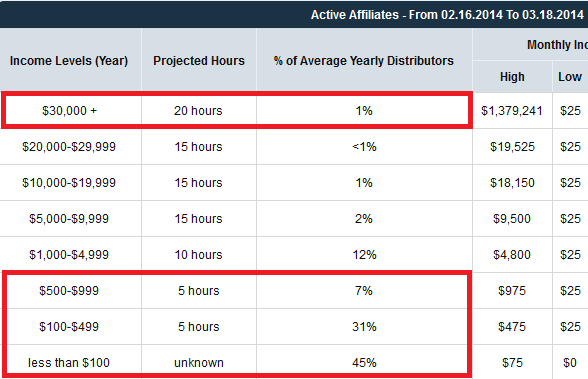 These numbers are understandable. You can't make much money selling only one program, especially using a blog platform that is impossible to rank. Also don't forget that you will try to make money by promoting a program that teaches people how to make money by teaching other people how to make money and so on…
How to Make Money Online
I started online marketing in 2007. I have been doing this for 7 years now and I have tried a countless numbers of different programs and trainings. I have been a proud member of Wealthy Affiliate for many years and I completely love their training. Promoting another program within this review might sound biased but let me tell you why it isn't.
Wealthy Affiliate is completely free to join. Yes, you read that right, it won't cost you a single penny to get in. This give you the chance to join for FREE, check out their training and support WITHOUT taking out your credit card. Put your wallet back in your pocket and check out WA. If you like what they offer – stick around, if you don't like it – simply leave, without losing your hard earned money.
Have anything to add? Comment below!
– Alex