In today's episode of Extra Paycheck Podcast I am joined by Clay Clark, serial entrepreneur and the owner of Thrive15.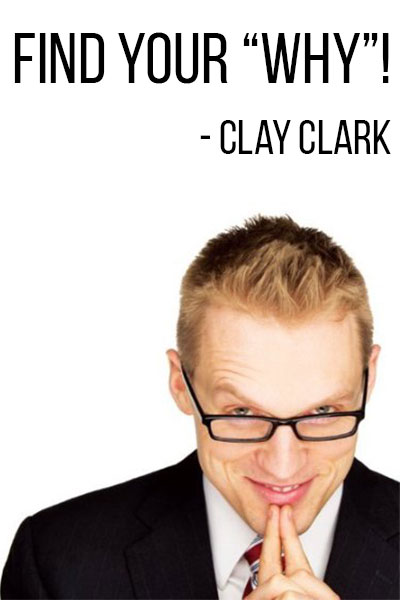 In this week's episode I am joined by an entrepreneur of the year, Clay Clark, the owner of Thrive15.
Clay is a serial entrepreneur and he's simultaneously running nine (9!!!) companies. He's running his companies while raising 5 children and taking care of 47 chickens (and 1 duck). In this episode Clark shares lots of amazing advice and tips as well as his personal story. Not that many years ago Clay started offering his DJ services at local events, that was his first business. Now Clay owns a photography company earning over $1.5 Million per year, he's involved in man's grooming lounge, real estate, dental practice, camera rental business, PR firm and a lot more (now that's what I call diversifying!).
I am not going to spoil the episode by typing everything here so simply click on that PLAY button on top of the page and enjoy the episode 😉
In today's episode you will learn:
How to make $100,000 in a year, guaranteed!
Why you really need to find your "Why"
How to stay motivated
How much effort (and time) you need to invest in order to succeed
The 4 secrets to SEO
Why you shouldn't be scared of working for free
… and a lot more!
You can find out more about Clay here:
Thrive15.com – make sure to use promo code CLAY
Elephant In The Room Lounge (one of Clay's businesses)
Tulsa Wedding Photographers (another business that Clay runs)
Make Your Life Epic (Clay's PR firm)
And as Clay says: "If you Google me and find anything bad it's probably true, anything good it's just PR!" so go ahead, Google him.
Other resources mentioned in this episode:
Think and Grow Rich by Napoleon Hill
The Ultimate Sales Machine by Chet Holmes
You can subscribe to the Extra Paycheck podcast and review it on iTunes.
If you do have any comments or question, please do use the comment form below!
– Alex