Getting paid for taking surveys is actually real. But should you trust the Get Cash For Surveys program or is it just another scam?
Getting Paid For Surveys
There are many companies that want to hear your opinion on different subjects and many of them are even willing to pay for your opinion. Once I got a survey in my mailbox (I am talking postal box, not e-mail) and besides the survey the company added 2 dollars inside the envelope. They asked me to fill out and return the survey, however I had a choice of not doing it and simply keeping the $2. The survey was actually pretty interesting and I decided to fill it out, although it took about 30 minutes. Obviously I didn't do it for the cash ($4/hour, really?). A few weeks after mailing it in the same company sent me another survey and a $5 bill with it. However, this time the survey was 20+ pages long and a note stated that estimated time of filing it out would be about 90 minutes. I was very happy to complete the first survey for the company in order to help them out but the second one went to the recycling bin.
Although these small amount of money weren't motivating enough, I turned to Google in order to find high paying surveys. I was surprised by the number of companies willing to pay cash for my opinion, however most of them offered $0.5 to $3 per survey which in the end came out to an average of $4-$5 per hour of work. Pretty disappointing, right? So my first issue with paid surveys was very low rewards.
I started looking further and was disappointed again because I didn't qualify for most surveys. These companies are looking for a very specific demographic: Women aged 32-37 who drive a Honda, men aged 45-55 who are balding, students who have a college loan of at least $20,000 etc.
The biggest issue was with rewards. Most of these companies did not even offer cash. They offered rebates, coupons, and in some cases "a chance to win" some cheap useless item like gardening scissors or a bottle of new organic cleaner. This is when I realized I wouldn't get rich by filling out surveys and I gave up on the idea all together.
Paid Survey Scams
Eventually when I began my Internet Marketing career I started seeing more and more websites promising the big buck for surveys. I even managed to sign up once, although they charged me $30-$40 for it. It didn't take me long to figure out I was scammed. The surveys they offered to me where even worse than the surveys I previously found. Sure, they listed some $10-$20 surveys but I could never qualify for them. As I did more research I understood that not a single person qualified for those high payouts because the surveys were fake. They simply didn't exist. The company listed such things to keep my hopes up, meanwhile they were trying to sell me some upgrades which promised even higher "earnings".
Get Cash For Surveys
This specific website works just like the sites I described above. First of all they charge for a membership by promising a bunch of high-paying surveys. It all begins with a deceptive practice of creating artificial scarcity. The site offers you a coupon code that entities you to a 50% rebate TODAY ONLY. The regular price is listed as $74 and the coupon gives you 50% off, bringing the total to "only" $37. But hurry, the offer is valid TODAY ONLY! Here is the kicker, the offer is there every single day. Check out their order page any day you want and I guarantee you will see the same message of "today only". They are scared that you will realize you don't want to take out your credit card so they are trying to create pressure so you act instantly and get a "deal".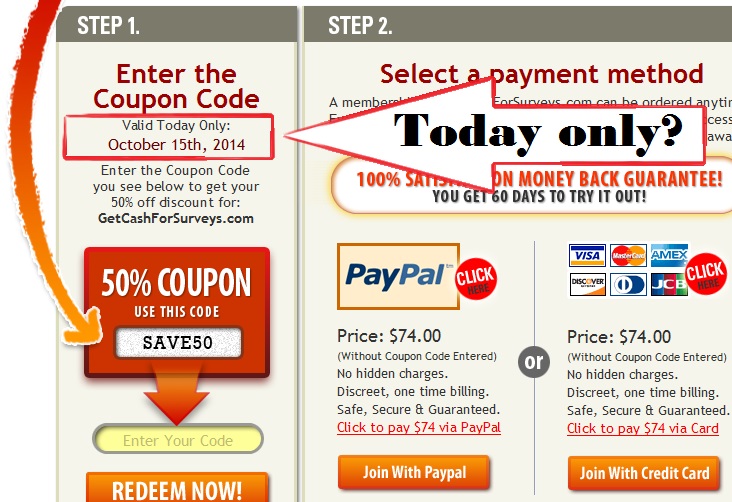 If you decide to leave the page without giving out your hard-earned cash you would see a warning message offering you a "deal of a lifetime", only $27 now…
And if you decide to miss out on the Deal of a Lifetime, GetCashForSurveys will give you one LAST CHANCE to buy into their program for $12…
This is another deceptive technique often used be people selling "No-Value" products. If they can't scam you out of $40 they'll try to at least get $10 and if you go for the bait they will try to upsell a whole bunch of stuff and squeeze you out as much as possible. This program also tries to upsell its members on a 2nd product at $77 and 3rd product at $47.
Let's move to their sales page which is hyped up as usual. They promise you'll make thousands of dollars and pay off your debt and buy everything you ever wanted. People really like  promises of easy cash and unfortunately fall for programs like Get Cash for Surveys. And did you see that Paypal screenshot with almost $7,000 on it? Looks really promising doesn't it? As I mention in another review Paypal screenshots are very easy to fake. It doesn't take Photoshop and requires less than a minute of your time to "earn" any incredible amount. For the sake of a demonstration I wasted a few seconds to create this one: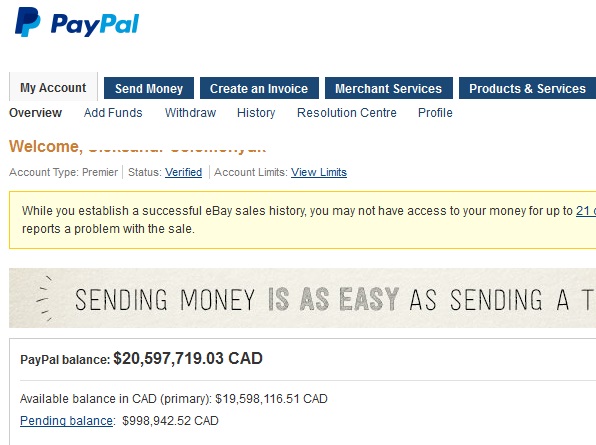 Just to be clear, I do not have $20 Million in my Paypal.
What Others Are Saying About Get Cash For Surveys?
Several sites and forums are filled with negative comments from GetCashForSurveys users. Seems like a lot of people lost money to this website, hoping they would actually earn decent money.
There are hundreds of other people all over the internet complaining about this website and losing money.
How to Receive a

Refund

from Get Cash for Surveys
Unfortunately their support seems to be non-existent. Lack of a contact number would be acceptable is they respond to e-mail in a timely manner but it seems like they don't really care for their customers after getting their money.
I have been an Internet Marketers to know a few things that may help others. If you have already paid for Get Cash For Surveys (GCFS) and realized you made a mistake – you can get your money back! GCFS is sold through Clickbank, a major online retailer of digital products. In order to sell within Clickbank the seller MUST offer a 60-Days Money back guarantee. If it's been less then 60 days since you paid, you can request a Get Cash For Surveys refund directly from Clickbank. You need to fill out this refund form and it's rather a simple process. Clickbank also offers live chat and phone support during business hours. You are welcome 🙂
The Reality Check
I've already mentioned that it is possible to make money filling out surveys. However, most (if not all) honest survey firms pay out very small amount for your hard work. If you are okay with earning $4 per hour then you might actually find programs that will pay. Remember that real survey sites will NOT ask you for a fee to join them. If you are asked to pay a membership fee for a survey site – it's probably a scam of some sort.
If you want to earn a living while working from home, you should consider affiliate marketing. I have been working in affiliate marketing (my main source of income) since 2007. I work with companies such as Amazon, Ebay and many others that you've surely heard of. Back in 2007 I came across the Wealthy Affiliate community (check out my full review here) and I have been learning the skills with them. I am still a member there and I still learn new things all the time since the Internet World evolves every single day. If you want to learn how to start earning money online then put your credit card AWAY and check these guys out, basic membership is completely free.

Best of Success,
Alex