"Hi,  Alex. I saw your video on Youtube about ranking websites on Google. My business is door installation and repairs in Houston, TX and I would like to hire you to do my Google business listings. Can you help me add my business to Google maps?" – I received this email a few years ago and got one of my first local marketing clients… although that "local" client was 2,000 miles away from me.
Small businesses have been struggling a lot in the past years, especially since the 2008 recession. However, recession isn't the only thing that hurts businesses. Radio and TV advertizing is expensive and most of the time ineffective for a small brick and mortar business. Print advertizing is dying a slow and painful death (kids these days don't even know what Yellow Pages is… or was). How can a small business find new customers? The only solution is to adapt to the growing world of Internet.
To be honest I don't have many "local marketing" clients, I simply don't look for them. If I get an interesting proposition I will gladly help out a business but I am not running around town trying to sign new clients. There are many reasons for this but the short explanation is that I simply prefer to spend my time growing my own online business.
Local clients often expect SEO companies to do miracles for a few hundred dollars, at least here in Montreal. I've had people call me and ask to build them a full website, train them how to edit/update it, rank that website on top of Google's first page and create all the necessary social media accounts for a very tempting $250… When I kindly declined and offered them another pricing plan they told me that I charge too much for such insignificant work and their "nephew who know computers" will do it for $300. Two years later that business is still nowhere to be found (as far as internet goes). So yes, this is one of the main reasons I am not actively seeking new customers although I do sign new customers now and then.
My point is that if you are a small business hoping to get listed in the top of Google's local listing results you have to make a decision. Either you pay a specialist who will do the work for you, either you put your business on hold for a little while and spend your time learning how SEO works and what needs to be done to get better search engine rankings. Invest the money or invest the time. Whichever choice you make, you should read this article as it will give you a better idea of how everything works and what you should expect. If you decide to do the legwork yourself, I will provide you with very helpful "how to" directions. If you decided to hire local SEO services, this article will help you understand what to expect from such specialists and how to chose a proper company to do that work for you.
Step 1: Let's Start
We'll start by creating a new Google account. This account will serve as your business account for "everything Google". This will include a Gmail email address, Google+ page, Google business listing and a YouTube account.  Even if you're already using Gmail as your personal email address I would highly suggest creating a new account, for a simple reason of keeping everything organized. The process of creating this account is pretty straightforward.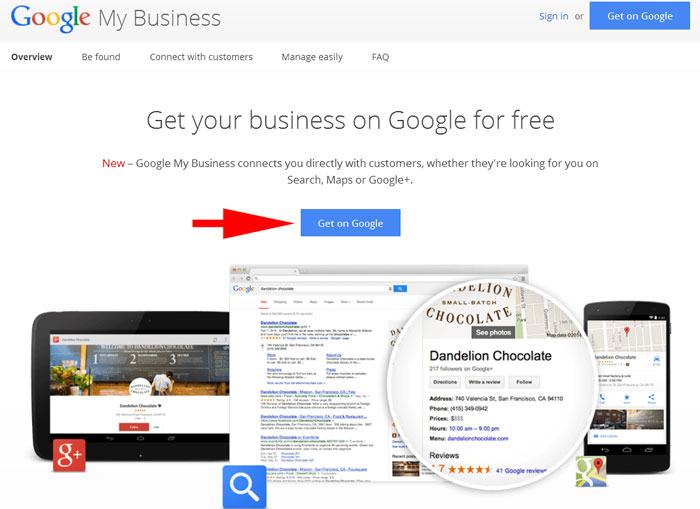 Once your new Google account is set and ready to go, head to Google Business. Make sure you are signed in then click the blue Get On Google button. This will take you to a local Google Map and will prompt you to search for your business name. Simply type in your business name in the search box and click on your business result if you see it. Your business might have been already added to Google, in that case you'll have to claim the listing (take over the listing). However, most likely you won't see your businesses in the search result so you'll have to click on "Add Your Business".
In the next window add all of your business details. The business name, address, phone number, category, etc. It is very important to add the real address. Once you fill out all the necessary information, Google will request to verify your address and they do it the old school way by sending you a postal card with your verification code. After typing in all your details you will see the following screen:
Click on "Mail me my code" and in the next window confirm that you want your postal card sent to you (this is free of charge, of course). Then, you will be asked to continue. You can also skip the verification step for now and verify later, once you are happy with your business listing.
If you click on "Continue and verify later" you will see your business Google+ page:
This is another important part of the process. On this page you will be able to add more information about your business and the more information you can give – the better. Make sure to add your website (if you don't have a website in 2015 then you seriously need to work on getting one). Add opening hours and a short but clear introduction to your business. You don't need to write a novel but be descriptive and try to add a few keyword phrases into that intro. For example, if you are selling motorbike parts you can write something like:
Moto&More has been offering motorbike parts for customers in Montreal since 1965. Our family-owned business thrives on helping you find the best bike parts at lowest prices. Let it be Harley, Yamaha or a Ducati – we either have your parts in stock or we will find them for you.
Add your best pictures. People are visual and a listing with pictures stands out, especially if other business listings don't have pictures. Now, no one wants to see your accountant's mugshot, a screenshot of your "corporate tree" or an obscure photo of a dark corner of your warehouse. You can add a picture of a cat, Internet likes cats. But seriously though, hire a photographer or try to get some decent photos of your business (or products related to your business). One picture tells a thousand words.
Once you have added all this information you can ask Google to verify your business, if you haven't already. It takes 1-2 weeks to receive the confirmation code by snail mail, at least in Canada. Make sure to not automatically throw away all the advertizing mail that comes through your doors, one of these cards could be a very important confirmation code from Google. The card should look like this: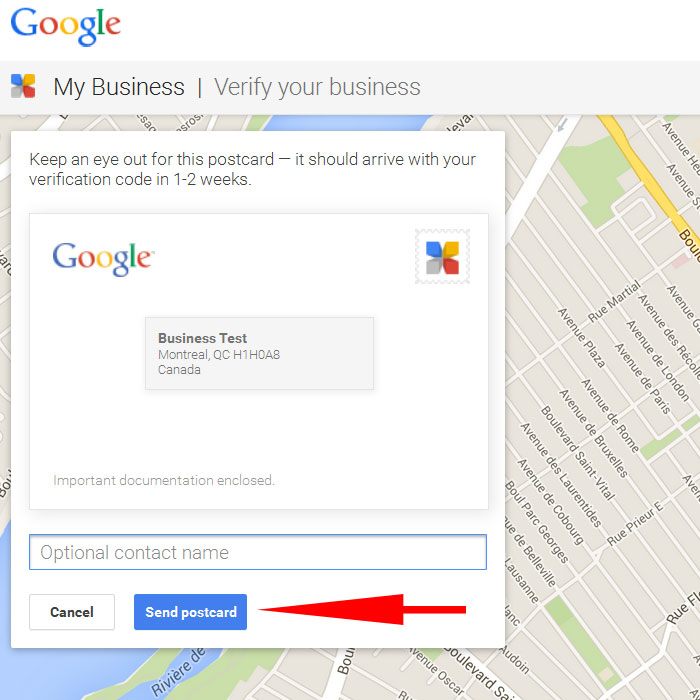 Once you confirm your business and fill out your Google+ page your business will be added to Google maps (or google local, or google business listings, call it as you like). You can praise yourself for doing all of that however you shouldn't do the happy dance just yet. Ready to move on?
Step 2: Get Noticed
Simply having your business listing on Google isn't enough. You are competing with many other local businesses so your goal is to get more visibility than the other guys. If you have searched for any kind of business on Google you have probably noticed that Google displays only a handful of businesses in their Local results:
In the example above I searched for "Restaurant NYC" and here is the actual struggle of many small businesses. There are over 24,000 eating establishments in New York City. When you search using the generic phrase "restaurant NYC", only 7 places are displayed. Think about it one more time, only seven results out of 24,000 are displayed on Google local. Now that's some hardcore competition.
I looked at Google+ page of result #3, restaurant Daniel and their G+ page had over 7 Millions views. Jean-Georges had over 5 Millions views. Balthazar, number seven on the list, almost 10 million visits to their Google+ page. Simply put, being in the top 7 of Google's local results can be very profitable to your business.
How to Get Top Rankings on Google Local?
If you are starting to get upset about these listings and thinking "well, these guys have lots of money, of course they are ranked on the very top" then you need to stop now. You can't pay for these Google maps top listings, you have to earn them. Google doesn't provide instructions on how to do it (and not a single person can guarantee ranking results) but there are some very specific strategies which will help you get to the top. I have ranked businesses in the "magic 7 results" and the basic strategy always stays the same.
Ladies and gentlemen, welcome to SEO, the world of Search Engine Optimization.
Companies that offer local SEO services charge as much as they charge because search engine optimization takes a lot of work and knowledge. This isn't something that you learn once, it's an ongoing process. Good SEO expert constantly tests new strategies, tweaks existing projects and stays alert for new knowledge that's available on daily basis. I can't teach you everything about SEO in one blog post however I can teach what you need to know to get better rankings for your local business.
If you look at the image I posted earlier in the post ("Restaurants in NYC"), you will notice a repeating pattern. In this particular case every listing has:
A proper website
5 out of 7 have a Google+ page
All listing have photos, some have 50+ professional photos
Every listing is very detailed (introduction, opening hours, link to reservations, etc)
Every listing has over 4 stars reputation (yet no 5 stars)
Every listing has a lot of reviews, the least amount is 176 reviews and the highest amount being 589 reviews.
A few other observations that aren't directly on Google+ but still something to keep in mind. All 7 restaurants have a Facebook page. 6 of them also have a Twitter account. 4 of the restaurants have an Instagram account and Jean-Georges even has a Pinterest account. Cafe Boulud and Daniel have the same web designer and a few clicks later I found out that both places have the same owner.
If you want your business to get inside the top 7 Google maps results then you will have to better than the others… or at least better than the guy in the spot #7. Let's dig a little deeper and see what exactly needs to be done and more importantly, how to do it.
1. Craft The Perfect Google Profile
I talked about this a little earlier in the post. You need to make sure you create a proper business listing. The examples above are profiles that weren't simply thrown together, they very carefully curated with a good intro text, beautiful images and other helpful information.
2. Build Your Online Reputation
Don't be afraid of critique. Feedback is great and it helps your potential customers make a decision. The more reviews you have – the better. Remember that writing fake reviews for your own business is a big no-no. Clients can smell fake feedback from miles away. Google is also getting better at detecting fake reviews and businesses going into these dark practices are risking a permanent ban from Google listings.
I also offer reputation management services to companies. This consists of dealing with unhappy customers, turning unhappy clients into incredibly satisfied customers who will recommend your businesses to all of their friends. And of course, building a great online reputation. You can and should ask your customers to leave you an online review, if you are providing a great service and making sure your customers are happy then you shouldn't be scared of "bad feedback". There are also many systems available that could help you with this process.
Besides helping your potential clients make a decision, Google also looks at your feedback. Sure, 4.5 stars is better than 3.5 stars but Google also looks into the number of reviews and how often you get new reviews. The number of stars is a lot less relevant (unless you keep getting 1 star complaints).
3. Create a Social Media Presence
Every business should register and maintain at least 2 basic social media accounts; Facebook and Twitter. If your business does a lot of "visual" stuff then you should also consider Instagram. If your main target audience is women then you shouldn't neglect Pinterest. Creating videos and posting them on YouTube is also a great idea for most businesses, small and big.
You don't need to spend your days on social media however you should keep these account active and you should interact with your followers and industry leaders. I have seen businesses talking about their competition on their social media accounts (in a good way, most of the time) and this helps a lot. Social marketing is a science in itself. I recently wrote a blog post about social media marketing and an incredible book on that subject, you can check it out here.
4. Build a Proper Website
There is no question about it, you need a website. Every online presence starts with a website in our time and age. Domain names are cheap so is hosting. In fact you can build an awesome and professional website completely free (excluding the $10/year domain name).
You can also pay a web designer for this task. Remember that your website will require some SEO work as well. Your site needs to have proper title, description and keywords. Your website needs to load fast and it needs to be mobile-friendly. Optimize your images and content for better results. Create the "required" pages such as About, Contact Us, Privacy and Policy. Create a sitemap and submit it to your Webmaster Tools account (another Google service). Don't forget to add your address in the website's footer (bottom part of the site) and make sure this address is in exactly same format as the address on your Google business listing, otherwise Google won't make the connection. You can check out this blog's Search Engine Optimization category for more information on SEO for websites.
5. Get As Many Citations and Listings as Possible
Citations are mentions of your business on other websites and business directories. When you search for a business on Google you will often find that links to "More Reviews". Here is an example:
If you've been scratching the surface of online marketing for your business you have probably already created a listing on Yellowpages, Manta, Yelp and Bing Places. However, there are at least a 100 more sources where you could and should add your business listing. Most of these directories are free to use. Google will certainly notice when more directories are linking to you than to your competitor. When adding listings on other websites it's also important to keep your company name, address and telephone number completely consistent, so Google could understand it as same address. 1000 Lincoln ave. – 1,000 Lincoln ave. – 1000 Lincoln avenue are 3 completely different addresses in Google's eyes. (212)555-55555, 212-555-5555 and 212-555-55-55 are three completely different phone numbers, I am sure you get the point. Stay consistent.
5b. Do What Your Competition Does
This point is numbered 5(b) because this is a continuation of the previous point, it's still about citations. No one can guarantee that if you have MORE citations than your competitor you will rank higher. However, I have noticed that this is the case for many different listings in completely different industries. In most cases top 7 Google local listings do indeed have more citation than those who aren't in the top 7. The number one listing might have 65 citations, number two will have 70 citations, number three will have 62 citations, number four will have 53 citations… number 10, who isn't even listed in Google Local has 5 citations. Once again, there are exceptions but you need to aim for more citations.
There are many different factors that make up the Google's search algorithm, this is why the simple fact of getting more citations does not guarantee the #1 spot, however it certainly helps. So how do you know how many citations you need? How many citations your competitor has and most importantly, where to get more citations so you could outperform your competitor? I'll share my little secret with you.
I use White Spark Local Citation Finder. This service will cost you $20 per month (if you're a small business you would probably only use it for 1 month). You can enter your main keyword phrase, for example "Dentist Boston", and WhiteSpark will find all citation opportunities available to you.

You can see at the very bottom of the image, WhiteSpark found 545 different citations for our keyword phrase and further down (not shown in the screenshot) is the full list of all 545 citation possibilities. However, what's a lot more interesting is the top part of this screenshot. WhiteSpark pulled the top 7 results from Google maps for this keyword phrase and presented these competitors to us.
You see the position of the business listing, their phone number, number of citations they have and a link to "view sources". This way you can easily see where your competitors got their citations and get them at the same place… and then get some more. How powerful is that? When I first stumbled upon WhiteSpark I expected it would cost at least a few hundred bucks a month but at $20 it's a no-brainer. You can even try WhiteSpark for free although most of the results will be blurred. You can also click on Resources -> Top Local Citation Sources in the top menu of the site for a free list of 50 most popular citation sources.
Recap
Set up your Google account. Add your business listing and verify it. Create social media accounts. Build a website. Ask your customers for reviews and feedback. Get more citations than your competitor. Combine all of these elements and you have a pretty big chances of making in to the top 7 of Google local results.
Does this strategy really work? I did exactly what I described above for one of my local clients and I was able to get him the number 1 spot on Google maps. I was also able to rank his website as #2 in organic search results (in his case it means spot #1 right underneath the Google top 7 local results) so he's got 2 spots on the first page of Google search results for his main keyword phrase and similar rankings for many other keyword phrases.
Please remember the results aren't instant so it will take some time. If you have 10,000 competing businesses in your city then it will be harder and it'll take even more time. However, if your competitors made it to the top – so can you.
I hope you enjoy the read and I would be very happy to hear from you. Need help? Got a question or a comment? Use the comment form below!
– Alex