It's that time of the year again; the Black Friday.
As many line up in front of the stores, ready to fight for Forza 5, Xbox One or whatever else is hot there, online marketers will look for great deals online, especially Hosting and domain names. Hostgator has been doing the Black Friday Sale for a long time now, recently they started doing Black Friday and Cyber Monday and this year they are doing the Hostgator Black Friday Weekend; 4 day sale.
Hostgator Black Friday Sales: 75% Off Hosting Plans and Domain Names for $1,95
 IMPORTANT:

There are no coupons needed for this sale, however, the sale will be held at specific times during the weekend, the

75% off sales schedule is posted

a little further down the page 🙂
Get Even More Savings:
When I got hosting from Hostgator with that rebate on Black Friday I paid for 3 years in advance. The Black Friday price is not recurring so you only get 75% off your first year and when you renew you have to pay the full price. However, if you pay for 3 years in advance while purchasing your plan, the same special price is applied for all 3 years. Instead of paying over $300 I paid about $75, how cool is that?
Domain Names at $1.95
Most of the sites sell domain names at $10-12 per year which already isn't much however, if you can snap them at Hostgator for less than $2, why not. Remember, you have to act fast as these prices will only be available until Cyber Monday in December !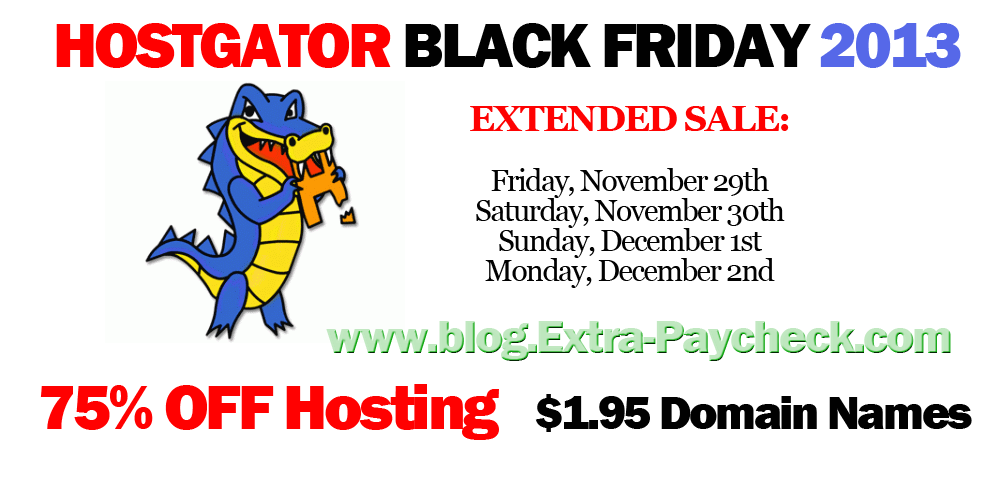 There is a catch…
Here is what Hostgator e-mailed me:
We will be kicking off Black Friday with 75% OFF all new hosting packages and $1.95 domains! The sale begins at 12:00AM Central Time, Friday, November 29th. The flash sale will run for 1 hour (ends at 1AM Central Time) and then the site will switch over to 60% off all new hosting and $4.50 domains (still an incredible deal that beats out our other promotions this year)!

We will be running limited time, 75% OFF flash sales throughout the day and all weekend. Here are the times for the flash sales (all flash sales are the same offer – 75% off all new hosting packages and $1.95 domains).
If you want to get the full 75% discount, you have to come to Hostgator Website as specific times when they are running a flash sale and there will be 8 flash sales during the 4 days.
Here is the exact schedule for the 75% off Hosting and $1.95 domain names flash sales:
(all times are Central Time):
Friday 12AM – 1AM
Friday 9AM – 11AM
Friday 9PM – 11PM
Saturday 12PM – 1PM
Sunday 8PM – 9PM
Monday 12AM – 1AM
Monday 10AM – 12AM
Monday 10PM – 11:59PM
Last But Not Least.
I have been a loyal customer of Hostgator since 2007. During the past 6 years I have tried many other hosting providers and I haven't found anyone that beats Hostgator. Prices are low, quality is great, their support is amazing and accessible 24 hours a day – do I need to say anything else?