There are hundreds of e-books, courses and trainings that will teach you what a sales funnel is and how to set up one. In this post I will explain all that information, free of charge.
The sales funnel is basically a system that helps you getting as many sales as possible from every potential customer. Before selling a product to someone, that someone has to go through 3 stages: lead, prospect and customer.
What is a Lead?
Lead is a person who might be interested in something that you can offer. If you are selling dog training videos then most dog owners could be your leads. Many dog owners will never train their dogs so they are cold leads, it would be almost impossible to convert them into clients. However a qualified lead is someone who's actually thinking of training their dog and that's the kind of lead you want to market to.
What is a Prospect?
Prospect is a qualified lead that is actually interested in your specific training. A prospect is usually someone who had some kind of interaction with you. Prospects signed up to your "9 Free Dog Training Tips" newsletter, or subscribed to your Youtube series or simply liked your "dog training" Facebook page. Prospects are warm to your offer and often could be converted into a customer.
What is a Customer?
Customer is someone who actually bought from you. Now that you have a customer you should try to turn that person into a repeat customer. The customer is obviously open to the idea of buying stuff online and it's up to you to make sure they buy from you again and again.
Internet Marketing Sales Funnel
Setting up a proper online sales funnel is pretty straight forward. There are numerous things that you'll need to learn while building your funnel and your online business. Sometimes you'll have to brush up your marketing skills, sometimes you'll need to research the technical side of it all.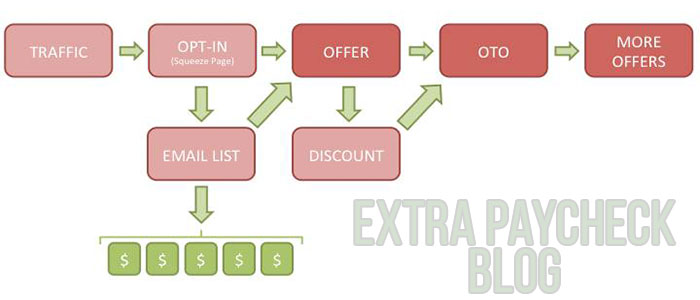 Don't panic. I will explain every part of this flow chart as clearly as I possible can.
Traffic
It all starts with traffic. You need to get leads to your websites. You can get free or paid traffic to your site, however this post is about sales funnel and not about traffic generation. Make sure you're getting targeted traffic because random visitors are useless most of the time. If you're selling a "dog training course" you want your visitors to be interested in dog training and not in stocks trading.
Opt-in (Squeeze page)
Getting traffic is sweet and all but that traffic needs to go somewhere. This is when you will set up your squeeze page. The main goal of a squeeze page is to get the visitor's email address so you could get in touch with that person whenever you want. This is very important because the visitor might end up on your website on a wrong day and leave forever. This is why you want that visitor to "opt-in" so you could approach them later on, maybe when that person will be in a better mood (buying mood?).
Often times a sales page also works as a squeeze page. You simply integrate an opt-in form and people who don't buy right away will often sign up to your newsletter or a free gift. So how do you get people to give out their email address? You offer them something awesome, for free. Going back to the dog training example. You can create a series of free dog training videos. When someone visits your site they watch the first video and they see a lot of value in it. At this point you tell them: "Get the rest of the series completely free! Sign up here!" and people will sign up.
You can create your own squeeze pages (also known as opt-in pages, landing pages and landers) or you can go for an outside solutions. There are plugins that will help you create an opt-in page and there are also standalone services that can do that. I've heard good things about WP Landing Pages free plugin and LeadPages.net ($17-$42 per month). Unfortunately I haven't tried either, if I do I'll make sure to review it on this blog. Remember that you'd also have to sign up with a proper Email Marketing service such as Aweber, MailChimp, GerResponse, etc.
The Product
You can sell your product or service directly on the page where you send the traffic, however, it might be a better idea to direct that traffic through a squeeze page as described above. Once the visitor enters the email address and clicks submit – simply say THANKS and redirect that person to your sales page (product page).
You can also send your email opt-ins to the product page and let them know they can BUY your premium product. As I mentioned earlier, it's a lot easier to convince someone to buy a product from you once you offered them a free gift of high quality. "If the free videos are so good, just imagine how great the paid ones are!".
One Time Offer
One time offer or an OTO is an offer presented to the buyer of your main product. This customer is already holding the credit hard in their hand (since they just bought a product off of you). Now you can offer them a second product, preferably related to the first product. Some marketers really exaggerate this step by adding too many OTOs. I personally get annoyed when I buy one product then I'm being bombarded with 7 others at the same time.
However, if your customer also bought an OTO you can try selling something a lot more expensive to that customer. Maybe a monthly membership to a private community? Or $1,000 private coaching? Or $5,000 to your seminar in Hawaii? Some people will buy, some won't but it could be worth a try in certain cases.
The process could vary a lot. Some will do a single OTO, some will do 10 OTOs. Some will present offers at lower price than the main product, some will do more expensive products. Regardless of how many offers are added, the process remains very similar.
Discount
Discount, often referred to as downsell is a way of grabbing a prospect who's almost ready to become a customer. If you ever purchased an internet marketing product you've probably experienced the "downsell". Downsell happens when you're just about to leave the sale page and all of the sudden you're offered a discount for the product. In some cases you would be offered a "light" version of the product. Most of the time though you'd just be offered to pay less. If you decide to leave the discount, you might see an ever bigger discount. I have seen $97 products discounted all the way down to $7!
When I see a product drop its price from almost $100 to under $10 – I also see a drop in perceived value. So this isn't something I'd do on my products however, marketers are probably using it because it works.
Once the customer buy a discounted product, he (she) is taken to the OTO and then through the rest of the sales funnel.
Email List
Well, you've used the opt-in form (or a landing page) to get all these email addresses, what now? Now you should start building a relationship with your prospects. You should sell stuff to them (because you are running a business after all), however use your judgement. You can't expect people to buy your stuff through every single e-mail you send.
Offer great content to your subscribers for free. Then more free content, then some more. Now ask them to buy your stuff. After that – give them more free stuff. Rinse and repeat.
So this is the basic Internet Marketing sales funnel. Feel free to use it in your marketing strategy and don't hesitate contacting me if you have any questions or comments about it.
– Alex