My Millionaire Mentor Review
You probably came here for a review of My Millionaire Mentor to see if it's a scam or a legit make money online, once in a lifetime opportunity. I won't beat around the bush and tell you right away – My Millionaire Mentor is a scam. Do NOT give them your hard earned money in exchange for false promises of an "automatic and easy way" to make money online.
Of course, I will not make such claims without backing them up. So let's dive into the details of why exactly can I say that My Millionaire Mentor is a scam.
What is My Millionaire Mentor?
You have probably seen My Millionaire Mentor's sales video already. You know, the one that starts off with the lady showing you how much money she made… by typing that number into her calculator app in her iPhone!
Well I have decided to replicate that. So I pulled out my phone and I was also able to type random numbers in my Calculator app! See for yourself 😉
They promise you will make 1000$ – 10000$ per day with their program, without any work. Does that sound too good to be true? Of course. Because it is. If it was that easy, we would all be millionaires. And like most scam programs out there, they don't go into details of how exactly you will be earning that money. They keep their offer vague, and concentrate on how awesome your life will be once you're rich. That's to make you dream and forget to ask questions. They are simply trying to distract you. The same strategy is used by pretty much every scam out there.
How exactly does the program work? Well first, you buy the 49$ product. You will then be convinced to spend another 89$ for website hosting. Which is waaaay too much – hosting should not cost you more than 10$/month until you have thousands of people on your site every day. And nowhere do they even mention that you will have to spend that extra 89$! In fact you can even find free website hosting.
So what happens after you pay My Millionaire Mentor all this money? They will tell you to go promote their program in exchange for a commission. That's the only way you can make money using My Millionaire Mentor. By selling it to others. It's the exact definition of a pyramid scheme!
There is no valuable product inside. NONE. All you get, after giving them 138$ of your hard earned money is the "right" to promote their program to others… effectively scamming those other people. Yes, that is 138$ to become a scammer yourself! I'm sure that's not what you were looking for.
You Will Not Make Money With My Millionaire Mentor
I have dug up My Millionaire's scam official disclaimer concerning their product (that they of course made very hard to find). Here is what it says: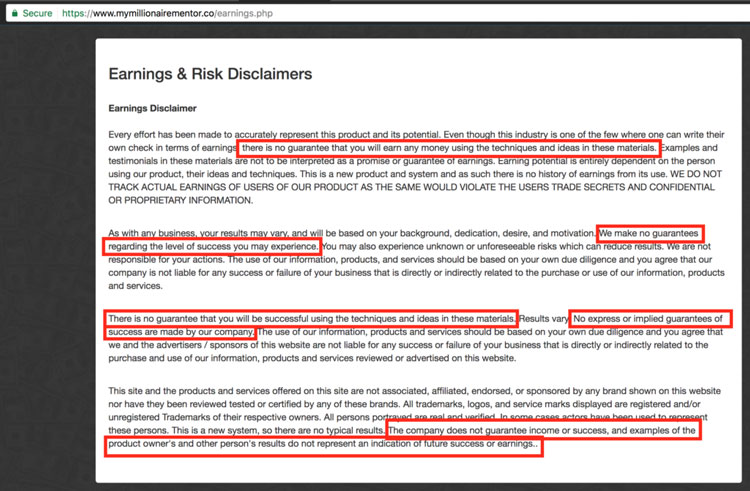 In theory, a disclaimer that the results are not guaranteed is normal for a training program. But My Millionaire Mentor is not training program. And what's concerning is how they lie to you in the sales video, saying you will be making money easily and automatically using their program. When in reality, they say at least 5 times in their disclaimer that you have absolutely no guarantee of making any money. That's because they want to be free of any legal responsibility once you buy their scam. And what about all these real people *cough* actors *cough* saying they made all this money using their program? Well it's written black on white in the disclaimer: "examples of the product owner's and other person's results do not represent an indication of future success or earnings".
They know you probably won't make money because most people will not promote their products once they are inside and understand it was all a scam. Who would be so shameless and promote something they understand is a scam to their friends?
So if My Millionaire Mentor don't believe you'll make any money in their program, why should you trust them?
How much money can you earn using My Millionaire Mentor?
Below their sales video, they actually disclose (https://mobe.com/income-disclosure/) how much people make using their program. Here's a quote: "The average Consultant, which includes both active and inactive, generates less than $250 per year"
And who are these people they call consultants? "A Consultant is someone who has signed up to be an affiliate and maintains the $19.95 per month affiliate subscription fee."
So let's do the math: You pay 49$ to sign up, 89$ for "hosting" and 19.95$ every month for a year. That adds up to 377.40$ And that's without counting all the upsells that they will make you buy once you're inside the program.
It's in the stats they share directly with you – the average person will earn less than they will spend using this program. You will lose money.
Who is the creator of My Millionaire Mentor?
In the video, some guy claims to be "Ryan Mathews, the owner of My Millionaire Mentor". But who exactly is Ryan Mathews? He does not exist. It's simply a fake person the owners made up so you can relate to him in the video. He tells you his life story with his struggles and you feel closer to him. He tells you he's just a regular guy – just like you – and that any regular guy can make money using his system. But the truth is that there is no sign of this person anywhere on the internet. The real owners do not want to put their faces and name out there – because they know they will be in trouble once they get caught for scamming. Think about it – if you had really come up with such a perfect system to make money online, don't you think you'll give a couple interviews and would want to share it with everyone you know?
Upon further investigation I realized that My Millionaire Mentor isn't really a standalone product. It's a gateway to the infamous MTTB, also known as MOBE. I have reviewed My Online Business Empire in the past and it's not pretty. They lure you in with a low end offers (like $47) and then the upsells start. They'll tell you if you are actually serious about making money you'll need to become their license holder for $1997.But if you are very serious you'll become a Titanium member for another payment of $9,000. And if you are really really really serious you will pay up another $15,000 to become a Platinum member. Where does it end?
Why Buy My Millionaire Mentor?
So there you have it. You can pay them 138$. This money will pay the person that referred you, and the owner of the scam (Matt Lloyd). And in return, you will be free to scam others and convince them to join My Millionaire Mentor. Is that what you imagined making money on the internet would look like?
Believe me, there are better ways to make money. You will not be scamming anyone – on the contrary you can be helping people and get paid for it.
You Can Make Legitimate Money Online
However you need to understand that there isn't a magic system. There is no way to make millions overnight. Internet has a huge potential and you can earn an insanely awesome amount of money but you will need to put in the time and effort into it.
I've been a member of this awesome online community since 2007 (and yes I still am a member in 2017). They have a clear step by step action plan, detailed training, updated video training and top notch support. The best thing is, you can become a member completely free so put your credit card away.
If you have any questions or comment, please do submit them in the comment form below.
Best,
Alex