Getting ranked on the very first page of Google can be extremely profitable. Of course your website must be properly monetized and people must be actually searching for the same thing that you are ranked for. So how does one get a first page Google rankings in 2014? Welcome to another edition of SEO Fridays!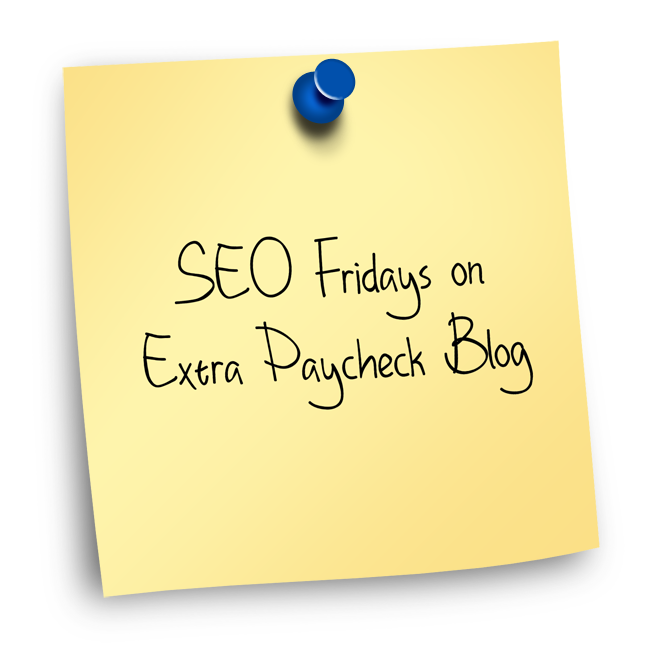 Get Links From Other Sites
A few weeks ago I wrote a blog post about Matt Cutts declaring war on guest blogging for SEO. When I wrote that post I mentioned that if you write a great post for an authority blog – it will only help you. However, most blog owners got really scared and decided to stay away from guest blogging completely.
So how can you get backlinks from relevant websites?
Everyone loves videos. You can make a video review for products and services that you use. Then you share these videos with product owners. Make sure you do not watermark the video, however add your website URL to the message that you'll be sending. Many website owners will be very happy to receive an unsolicited video testimonial and will happily place it on one of their pages. Most of them will write something like: "Here is what Alex from Blog.Extra-Paycheck.com has to say about our product!" This way you are getting a backlink from a high quality, related website.
Interview The Experts
This technique might be a little hard to do but I've seen it done over and over and over again. I also have a little bit of experience with this and I might be jumping back into it soon.
Reach out to the experts in your niche or industry and interview them. You can do an e-mail interview, a Skype interview or even a video interview. Lots of folks will be very excited to do this for you because you will make them feel like their opinion is very valued. They also know they might get more exposure because of an interview – so go ahead and ask. Your site visitors will also enjoy an interview from an expert.
I have been interviewed by a few different sites in the past. All these sites linked back to my blog, of course. These sites' visitors also posted links to my blog (because they liked the interview). So I got a good amount of backlinks from relevant websites and became more of an authority in that niche.
Now, I have also linked back to the person who interviewed me! And so did some of my readers. As you can see it's a win-win situation. So, interview and get interviewed!
Write Longer Posts
I think I've already mentioned in other posts that your content must be at least 500 words. Search engines do not tell us a required minimum, so this is something I came up with from experience of being human. When I see a blog post that's 250 words long – I don't ever bother reading it. I simply don't believe that you can prove a point or teach me something new with such short text.  Sure, there are exceptions but this is how I feel about the length of content.
I have noticed that when I create a piece of content with 1,000 words or more – it tends to get better Google rankings than my shorter articles.
Should you write longer posts? Well it really depends on the content that you create. If it's 1,000 words of fluff – then it's useless. We can't really know how the search engines will analyze your text but we all know that your readers will not read it if it's boring and doesn't bring any value. For example, this post is pretty long but it offers useful strategies. And I really hope it's not boring 😉
Stop Concentrating On One Keyword Phrase
As I am typing this I already hear some "SEO" guys screaming: "It's absurd! One simply cannot STOP concentrating on the main keyword phrase!" but you really should. If you are still calculating your keyword density then you are doing it wrong. Sure, use your main keyword phrase in your text but make it natural. If it naturally flows with your phrase then use it. If it doesn't flow – don't use it, it's that simple.
However, in this technique I wanted to talk about something different.
So you have spent all that time writing a great article, keyword optimizing it and getting it ready for lots of readers… So why would you concentrate on one single keyword phrase and trying to get traffic to it instead of adding lots of keyword phrases and getting more traffic?
If you look through this post you will see that I'm using many different keyword phrases, although all of them are related to SEO: Ranking On The First Page of Google, SEO Techniques, Google rankings in 2014, get backlinks, to get better Google ranking, etc. I have been doing this without really understanding what I was doing, then I started noticing good search engine rankings for keywords that I did not target (at least not consciously).
Don't get obsessed over a single keyword phrase.
On-Site Search Engine Optimization
Proper on-site SEO optimization is still very relevant and important. When you first set-up WordPress you should edit the name Platinum SEO or All-in-One-SEO plugins can help you manage this part of your site. I use Elegant Themes and the theme lets me do this through the ePanel:
You need to come up with a proper website title. I have noticed that most effective titles are 60-80 characters long, however feel free to experience with this, just don't make your title too long.
Then you need to write a website description. Tell people what your website description in 160 characters. The thing is that Google's search engine results usually show 160 characters – longer description will not be visible in search results. Feel free to use your main keyword phrase in the description but don't use it more than once.
Meta keywords… many claim that Google doesn't even look at this [art of your site but I disagree. What you must remember is not to abuse on meta tags. Write 2 or 3 long tail keyword phrases that are highly related to your site.
SEO for posts and pages
You can create custom titles and descriptions for every page and/or post of your site. If you don't do this, Google will decide what to show as your site description based on your content, and the title will be the same as your post's title. I normally don't edit these fields for my posts and I let Google decide what's best.
However, you should consider SEO for pages. I recently worked on SEO for a client in Denmark. I wrote a unique description, title and keyword tags for every single page. All these pages got better rankings within days.
Disclaimer: the techniques described in this post helped me get better rankings time and time again. I shared my SEO strategies with you; however I can't guarantee any kind of results for you.
Have a question or a comment? Use the comment form below!