You are looking for a Wealthy Affiliate hosting review because you want to know if the web hosting on this platform is worth it.
In short, you can host up to 10 websites on a single account through Wealthy Affiliate hosting. A starter member has access to 1 single website hosted on the platform. This managed WordPress hosting comes with free SSL, it's very solid, fast and offers great up-time.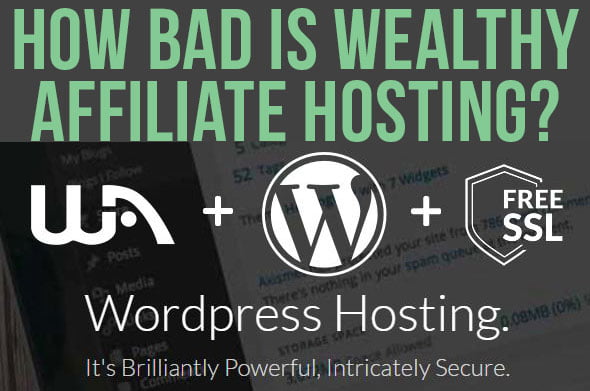 Wealthy Affiliate Hosting Review
Wealthy Affiliate is an online marketing and affiliate marketing training platform and community. Building a website is one thing but actually monetizing that website is completely different. Wealthy Affiliate offers loads of training on the subjects of marketing, affiliate marketing, content production, search engine optimization and more. Members of this platform also get access to web hosting. Although Wealthy Affiliate does provide high quality hosting to its members, it is not a typical web hosting platform.
What is Wealthy Affiliate Hosting?
Wealthy Affiliate hosting does not look or feel like most other hosting companies. You will not get access to the full control panel but rather to a website builder and an FTP account. Since only WordPress installations are allowed you will not get access to a cPanel or similar.
Wealthy Affiliate offers WordPress managed hosting. WordPress is the world's most popular content management system simply because it works. The Wealthy Affiliate website builder allows you to set up your website in just 3 clicks and under 30 seconds. The installation will come with a theme and a few basic but necessary plugins. You can always change the theme and remove or/and add plugins as you see fit.
Your website will be set-up from the technical point of view. After the set up you will need to start creating content and publishing on the website. I just want to make sure that you understand that although the website will be set-up with 3 clicks, it will be empty and will not attract visitors until you fill it with content and start promoting it.
Website Loading Speeds
Since this is a Wealthy Affiliate hosting review, looking at the website's loading speed is extremely important.
The Extra Paycheck blog is hosted on HostWithLove however I do have some niche websites that are hosted on Wealthy Affiliate. I just ran speed tests using Google's PageSpeed tool as well as GTMetrix. It is important to note that the tested website uses the Astra theme. It has 10 active plugins, one of them being RankMath which is not light.
The tested website does not use any caching or image optimization plugins. This means that it could be faster if I actually spent time optimizing it.
Here is the result using GTMetrix:
Here is the Desktop result using Google's SiteSpeed tool:
Finally, here is the Mobile result using Google's SiteSpeed tool:
Unfortunately I am not technical enough to explain why these tools show different results. However, both report rather impressive speeds. Certainly setting up proper caching and optimizing images on the website would make it even faster.
Wealthy Affiliate Hosting For Free Members
Starter members get access to the website builder and can build 1 site. The is completely free. Yes, you read that right, it's $0. They wouldn't even ask for your credit card details. It is free but it is also very limited. The main goal here is to trying to show you how it works and how fast it actually is.
A premium domain name cannot be connected to this website and it will be set up on SiteRubix subdomain. This means that your website address will look like this: MySite.SiteRubix.com
I've seen such sites on Google search results however, not many of them. The truth is that when you're building a profitable website you want to brand it. You would want to use a top-level domain name such as MySite.com. If you want to use a top-level domain with Wealthy Affiliate hosting you'll need to upgrade to premium membership.
Wealthy Affiliate Hosting For Premium Members
Premium members can build and host 10 websites on Wealthy Affiliate hosting. As a premium member you can use top level domain names purchased through Wealthy Affiliate or elsewhere. Wealthy Affiliate will provide you with its nameservers so you can connect your domain name with your website hosted through Wealthy Affiliate hosting.
Website analysis, website support, faster speeds, daily backups, feedback platform and many other features are available to premium members. As I mentioned at the beginning of this review, the main business of Wealthy Affiliate is online marketing training. If you decide to host your website(s) with them as a premium member you will also get access to all of the training, support and community. More on that in my full Wealthy Affiliate review.
Premium membership costs $49 USD per month (first month is discounted and only costs $19). If you opt for a yearly premium membership, it'll cost you $495 per year. As a yearly member you get a free top level domain as a bonus ($14 value) and $50 worth of Wealthy Affiliate credits which you can exchange for more domain names.
Wealthy Affiliate Domain Names
A few years ago Wealthy Affiliate got the ICANN permission to sell domain names directly within the platform which makes things much easier if your website is set-up with Wealthy Affiliate hosting. If you already have a domain name you can use it as well, no need to transfer it to Wealthy Affiliate.
On average their domain names cost $14 USD and need to be renewed once per year, just like with every other domain name seller. If you decide to leave Wealthy Affiliate you will be able to transfer your domain name to a different registrar. In order to do that you'll need to contact the SiteRubix support to get your codes and other information needed for the transfer.
Wealthy Affiliate Hosting Features
Wealthy Affiliate hosting review wouldn't be complete if we didn't look at the full list of features that you'll have access to through Wealthy Affiliate hosting.
Here are Wealthy Affiliate hosting features at a glance:
Number of sites you can host: 10
Website Space: 30GB
Hosting speed: Amazon c3.large (very fast)
Included bandwidth: 500,000 visitors per month
Free SSL Included (adds a safety lock to your sites and lets visitors and search engines know that your website is secure)
Daily Website Backups
Unlimited email accounts on the domain level
Website feedback – improve your website by getting feedback
SiteHealth Report – stay on top of things and make sure your website is doing well
Hosting Speed
Wealthy Affiliate hosting is using the cloud hosting (Amazon c3.large). Netflix, Reddit, Pinterest and many other giants use the same Amazon c3.large hosting. The same hosting is used by some of the biggest companies that rely on fast, robust and secure hosting. This is how Wealthy Affiliate hosted websites offer such fast loading speeds.
As you can see prom the screenshot I posted earlier in this post, the site loading time is impressive.
Mirror Hosting
Wealthy Affiliate mirrors all of the websites they host. This means they have a copy of your website ready to be displayed to visitors in case the main hosting goes down for whatever reason. This way your website is always live. Wealthy Affiliate promises 99.9% up-time which means that your website never goes down.
However, if something would happen to Amazon servers (example: power outage) Wealthy Affiliate will immediately swap your site for a mirrored version until the main server comes back online.
Hosting Security
When it comes to running websites there are many hackers and people with malicious intent who will try to get control of your site, regardless of where it's hosted. Wealthy Affiliate is able to prevent hacking or spam before it happens by using several layers of security.
Website Backups
Wealthy Affiliate hosting backs up your website every 24 hours. This means that if you really mess things up and break your website, Site support will be able to restore a previous version of your website where everything worked fine.
Free SSL
SSL changes your website's address from http to HTTPS which is a much safer protocol. Visually this adds a lock in the top of the browser, next to your website address. This lets your website visitors as well as search engines know that your website is secure. Google confirmed that they rank SSL secure websites higher than not secure websites.
Many web hosting providers will charge you a fee for an SSL certificate. With Wealthy Affiliate hosting you get free SSL certificate for as long as you host your website with the platform.
Wealthy Affiliate Hosting Support
Wealthy Affiliate uses a support ticket system if you need technical help with your website. Please note there is no chat support and there is no Wealthy Affiliate phone number for support. I had to use Site support a few times and normally got help within 5 to 20 minutes.
Personally I like the ticket system because it helps to keep track of everything that's been said and done. Whenever I need support with anything else (phone provider, PayPal, hosting, etc) I always prefer the ticket system and I try to stay away from phone support as much as possible. Ticket system allows the tech support agents to send you instructional screenshots and videos if needed. This cannot be done over the phone.
Wealthy Affiliate Site support is there to help you with technical issues. For example, if your website is not loading or a plugin is issuing an error – that's technical support.
If you don't know how to add an image in your site, that's not technical support. However, because you are a member of Wealthy Affiliate you can most likely find training on any subject related to your website within the platform. You can also ask the community for advice.
Wealthy Affiliate Hosting Affiliate Program
Since wealthy affiliate hosting is the part of Wealthy Affiliate platform, you will be able to promote the hosting platform as an affiliate. Wealthy Affiliate pays a recurring monthly commission of $23.50 per month and/or a yearly $235 commission respectively of the sale. Wealthy Affiliate affiliate program can be very profitable.
In fact if you sign up to Wealthy Affiliate premium membership using my links I will receive a commission.
Wealthy Affiliate Hosting Comparison
Since WordPress is so popular, there are several web hosting services that specialize in WordPress managed hosting. Most of them come at a much higher price than Wealthy Affiliate. WP Engine will charge you $115 USD per month for similar hosting plan, Kinsta will cost you $200 USD per month for the same plan.
Wealthy Affiliate Hosting vs Bluehost
You might also look into cheaper web hosting plans. It is comparing apples to oranges but I'll try to explain why I am against this.
When I first started learning about affiliate marketing I tried many different hosting providers, most of them costing about $5 – $10 per month. I have tried several ones because most of them were either too slow, didn't offer support or had a lot of downtime. Eventually I ended up with HostGator (owned by the same corporation as Bluehost). In the end I had to leave Hostgator as well after a horrible experience.
Shared hosting has only 1 positive point: low price. However, be ready for your websites to be offline, hours at a time. Be ready to spend 2 hours with support through chat, without having your issues resolved. Be ready to watch your competitors rank much higher than you on search engines imply because your website loads very slowly.
If you still decide to go with a cheap, shared hosting please make sure to stay away from EIG owned hosting providers. This includes BlueHost, HostGator, iPage and many others. WebHostingTalk is also a great forum to read the real hosting reviews.
Conclusion of Wealthy Affiliate Hosting Review
To conclude this wealthy affiliate hosting review, I recommend it. It certainly isn't cheap but you get a lot for your money. Similar hosting plans cost at least double on other platforms. However the biggest reason  for using Wealthy Affiliate hosting is the access to Wealthy Affiliate training and community.
Last but not least, if you aren't planning on joining the premium membership, I don't think the wealthy affiliate hosting is a good choice for you. I strongly believe that you if you want your website to succeed you need t a top level domain name and not a subdomain like SiteRubix. Unfortunately you cannot connect a top-level domain as a free member.
Do you have any questions about this wealthy affiliate hosting review? Did I leave anything unclear? If so, please use the comment form below and I'll get back to you as soon as possible.