My Honest 2020 Wealthy Affiliate Review
Welcome to my Wealthy Affiliate review. When I first stumbled upon Wealthy Affiliate in 2007 I had to pay the full price just so I could see what it looks like and what it really is. This program has changed a lot in the past 13 years and you can try it out completely Free.
In this Wealthy Affiliate review I will try to answer all of your questions and help you make an informed decision.
The starter account is $0, no catch, no credit card required – so you could decide if it's right for you without risking a single dime of your hard earned money.
I'm sure you would agree with me that falling for scams and losing money is not fun at all. I have wasted over $1,000 when I was looking for a way to earn some money from home.
I have bought every single hyped-up product that crossed my path and promised to make me rich and I became very skeptical about the whole idea of making money on the internet. This is why when I found  Wealthy Affiliate (WA) I swore to myself it would be the last program I ever try. I almost moved on with my life believing there is nothing but scams online.
Wealthy Affiliate Review – Table of Contents:
What is Wealthy Affiliate?
Wealthy Affiliate is an online community with over 100,000 members and a training center. Founded in 2005 by Kyle and Carson, Wealthy Affiliate has become one of the most reputable and highest-rated resources to teach you the ropes of digital marketing and online business.
Whenever I talk to someone about WA – I always start by saying it's not some money making scheme, easy system to riches or pyramid scam. So what is Wealthy Affiliate? Wealthy Affiliate is first of all an online entrepreneurship community and a marketing training center.
If you think that you will start making money by simply joining WA – I would suggest you walk away, it's not going to happen. This is probably the biggest difference between WA and all the other online programs – Wealthy Affiliate does not sell hype and false promises, it doesn't promise to make you rich overnight and it doesn't promise you a shortcut to overnight millions of dollars. However, this program promises to teach, train, educate and support you. If you are willing to start and run a successful affiliate marketing business, keep reading.
Before we go any further with this Wealthy Affiliate review, I need to make one thing clear because I want to be totally transparent with you.
I am an affiliate for WA. This means that at no extra cost to you I will receive a commission should you sign up to Premium membership. This statement might make you think that this review is biased and I understand it. My goal through the years has been providing people like you with honest and accurate information.
This is why you will find GOOD and BAD reviews on this very blog. I only recommend products and services that I have tried and found great value in. I've been approached by "Earn Money Online" programs that offered to pay me $100-$750 commissions per sale. After looking inside those programs I often realized that their prices are way too high for the services that they provide and naturally I refused to promote them.
Of course we all want to earn a living from the comfort of our home but I refuse to do it when I think it's unethical or dishonest. All that said, I hope you keep on reading this review and make a decision of your own.
Wealthy Affiliate Pros vs. Cons
Pros:
Clear Plan of Action
All levels of training – Beginner and Advanced
Video training, Step-by-step Tutorials and Courses
10,000′s of community members
13 Full, Interactive Classrooms with tasks to complete
Live & Interactive Help from owners and expert members
1 Free Easy-to-Build Website (you will also learn what to do with these sites)
State of the Art Website Hosting
A strict spam free environment.
No up-sells, ever. (except Premium, of course)
$0 Membership. Yes, completely FREE!
Cons:
Too much information that can be overwhelming. Although WA has a great step-by-step training, it's easy to get distracted. WA does a great job providing a clear training however with thousands of members posting their questions, progress and stories – it's very easy to get side-tracked (at least for me).
Sometimes I catch myself spending too much time on Live Chat – it's addictive. This however takes away my time that I could spend on working.
Not allowed to advertise/sell within WA. (This should be a warning for spammers who want to join WA just so they could try to sell something). Sometimes I feel like I have written an awesome review on this very blog and I want to share it with WA community but I understand that it isn't allowed. In the end it's all for a good reason.
Starter membership is great for beginners however an upgrade to paid premium is highly suggested in order to access advanced training. The free membership is kind of a "preview" into the full Wealthy Affiliate membership.
The biggest "con" for me personally is that Wealthy Affiliate is mostly catering to Beginner and Intermediate marketers. It's lacking some information for the Advanced marketers.
Is Wealthy Affiliate for You?
I must admit that WA is not a perfect choice for everyone. Wealthy Affiliate teaches people how to build a business and/or how to expand a business and take it to the next level. So in one word it teaches you Marketing. If you aren't willing to learn and to take action than the whole concept of making money online isn't for you.
So who can really benefit from this program?
A person who wants to make an extra income to supplement their salary. Let's put it this way: no everyone looking to make some extra money is looking to replace their salary. An online business can be a part time thing, providing you with some extra income.
Stay at home moms and dads who have some free time and are willing to spend it in front of the computer. We already spend quite a bit of time starring at screens while scrolling through our social media pages. We can use that time to actually make money.
Students who want to earn some extra income to help them pay for their tuition. Some college students actually built 6-figure businesses from their dorm, using Wealthy Affiliate. These kind of stories make me wish I discovered affiliate marketing when I was much younger.
Business owners and e-commerce owners who want to get more visibility and more sales online. At wealthy affiliate you will learn how to do affiliate marketing, how to get more traffic to your website, blog, shop, YouTube channel, etc. These marketing techniques can apply to existing businesses.
Retired folks who have free time and want to supplement their pension. Because let's admit it, learning new skills is just fun, especially if these skills can help you pay the bills.
People who are fed up of 9-to-5 and want to start their own business. Many Wealthy Affiliate members have been able to quit their "day job" to do affiliate marketing full time. I actually fall into that very category. I first started looking for information about earning online simply because I was fed up with my full time office job and I couldn't stand the thought of having to do that for the rest of my life.
Digital Nomads – people who want to be able to live anywhere in the world because they're producing an income on the Internet and are not attached to a physical location. Traveling while working is not the easiest thing to do – but it certainly is doable. Many travel bloggers (if not most) are using this exact model to sponsor their travels.
As you can see, WA is good choice for everyone who is seeking to earn money from home, however you must understand that you will have to invest your time and effort in order to make it work. This program will teach you how to BUILD a business – and any business, online or offline requires an investment of time, effort and usually money. The big difference between starting an online business instead of a traditional brick and mortar business is that you do not need a start-up capital to get started online. You do not even need any money to join Wealthy Affiliate, the basic starter account gives you all you need to get started: including 2 free hosted websites, training and all the support you need. What Exactly Do You Get Inside? Wealthy Affiliate only costs $49/month. Update: Wealthy Affiliate is now FREE to join! (Join now)  

Websites
Wealthy Affiliate websites, by membership level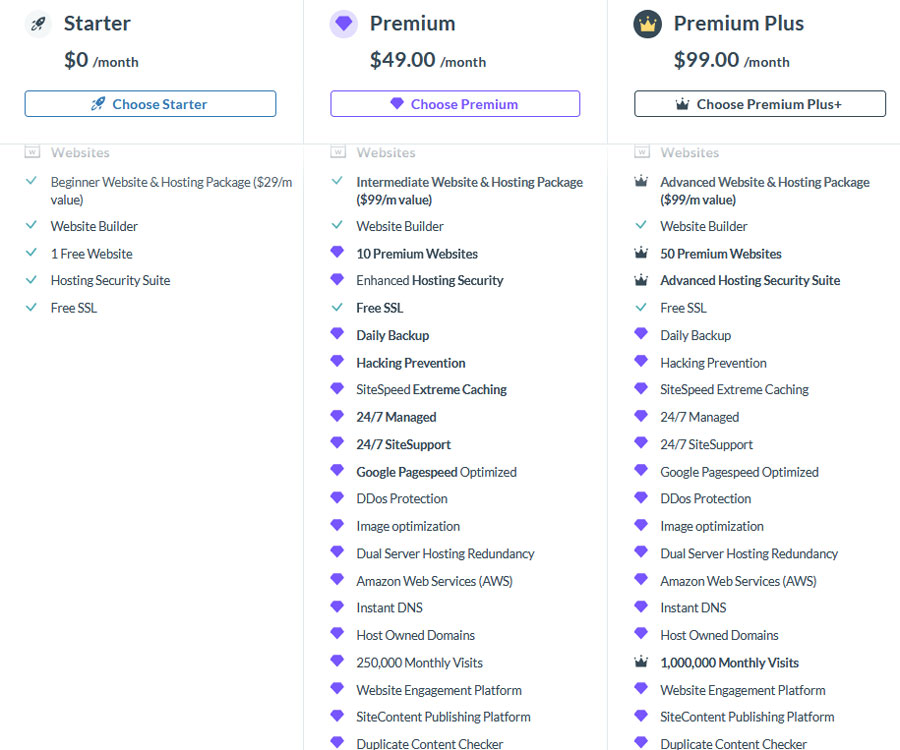 Support and Research
Access to Wealthy Affiliate support and research, by membership level


Training
Access to Wealthy Affiliate trainings, by membership level

In the screenshots above you can see some of the benefits and features of the platform. This wealthy affiliate review is already long so you can see the full list inside the platform. The program has two (2) different membership levels: the basic and the premium. This is really awesome because you can join without spending a single penny, look around, meet some people, create your own website (hosting included) and see how it goes.
If you love it like I do – you will join Premium for even more benefits or you could still build an online business using your free starter membership, no strings attached. This alone makes Wealthy Affiliate so much better than any other program or opportunity – there is no risk of losing money to something that might not work. Put your credit card away and get a ZERO dollar access! What you get with your 0$ starter membership:
Instant access to over 500 training modules
1 free website along with free hosting
Access to 2 classrooms
Live support from the owners for the first 7 days and support from many experts inside WA!
30 keyword searches a month
Phase 1 of the Boot camp course, teaching you how to build an authority website.
What you get with as a Premium member ($19/month first month, then 49$/month):
Live Video Classes every week! You can participate in these classes as they go on. These classes are incredible as they allow you to learn the latest most efficient marketing strategies and techniques.
Over 300 hours of recorded live classes, yes you can replay them.
Instant access to over 500 training modules
10 free websites along with free hosting. Personally I don't think you'll ever use 10 of them. I've been doing affiliate marketing for 13 years and I do not run 10 websites but it's nice knowing that you have access to that.
Website Backup and Website Security Package
Access to all 12 classrooms as a Premium Member
Unlimited Live support from the owners and support from many experts inside WA!
Unlimited keyword searches
All phases of the Boot camp course (7 modules)
100% higher commissions.
Private Messaging – Unlimited
Private access to my support.
Private Access to Webinars
Private access to Kyle and Carson
Website Tech Support – 24/7
Website Analysis
Keyword Research Tool – unlimited number of searches
… and a lot more!
The most valuable benefits of Wealthy Affiliate (in my opinion) are the step-by-step approach to building a business and the support from Kyle, Carson and many expert members. Most other affiliate marketing are lacking the support and the clear action plan. I have tested dozens of different programs over the past 13 years and nothing comes close to the quality of Wealthy Affiliate. However, my most favorite part of Wealthy Affiliate training are the Live Courses. Every Friday there is a new course, streamed LIVE. These courses talk about the most efficient marketing strategies of the moment. Premium members not only get the front-row seats to these classes, they also get to participate in these LIVE sessions by asking questions.
How Much Does Wealthy Affiliate Cost?
There are 3 membership levels within Wealthy Affiliate.
The starter membership is free and will always remain that way.
The Premium membership costs 49$ per month, however the very first month of Premium is only 19$ USD.
Wealthy Affiliate newest package, the Premium Plus costs 99$ per month. It offers even more expert classes, 50 websites, access to Jaaxy Enterprise and other perks. The Wealthy Affiliate Premium Plus is a new membership level that became available in late 2020. I have not tried this membership yet as I am still on the regular Premium membership.
If you decide to join as a Premium member on a yearly base, Wealthy Affiliate will cost you $495 for 12 months($93.00 OFF) which comes down to about $41 per month. With a yearly membership you will also receive 100 Free Community Credits ($50.00 Value) and 1 Free .com Domain ($14.00 Value).

Wealthy Affiliate Live Video Classes
This part of Wealthy Affiliate has become one of my favorite. Every single week WA offers a live video class where you can learn something very specific. During this video class you also get access to live chat where you can ask questions and communicate with other members.
Here are a few examples of live video classes:
These live classes touch on different subjects that are relevant and important today. One of the reasons I am still a member of WA is because I am able to keep on learning new information.
The video classes are also recorded and available for replay whenever you want to watch them. There are now well over 300 training videos available.
Wealthy Affiliate Earnings Potential
I often get this question from new WA members and people who haven't joined yet: "What is the earning potential with Wealthy Affiliate? How much money can I really make in a year?" There is no specific answer to this question. Some people make a few bucks a month; some make $100,000+ per month.
Although there is no exact answer to this question I can tell you this: The amount of money you can earn is directly related to what you do and how you do it. The folks who are highly successful have one thing in common – they followed the training to the dot and they took massive action. Learning how to do something is great but you need to apply this knowledge in order to actually start earning.
Don't take this statement as a rule but if you do go through WA training and build your business the way WA teaches you I don't see why you can't make $50,000+ in your first year. Most beginner internet marketers fail online because they do not follow a plan of action, get distracted by new shiny products that promise millions overnight and because they do not take enough action. Wealthy Affiliate will help you with all of it: Provide you with a realistic plan of action, courses that you need to follow and tasks you need to complete. Stay focused and you will be successful. Need more motivation? Check out some of my earning:
Have you noticed that these screenshots come from different websites? This is because I diversify my earnings so I get commissions from different companies. There are hundreds if not thousands of places online where you can earn money.
I am sure you can see the potential. I have never made millions of dollars online but that's mostly because I am lazy and I prefer to travel and ride my motorcycle around town instead of working. The more effort you put in the more you earn, that's the secret to success.
Make Money Doing What You Love
Although Wealthy Affiliate will teach you different marketing strategies that are very helpful for any kind of business, they do concentrate on affiliate marketing. Affiliate Marketing means that you get paid a commission whenever someone buys a product that you recommend. Most companies offer affiliate programs (Amazon, eBay, Target, Airlines companies, credit card companies, etc.). Since more and more people buy things online instead of going to traditional stores (for obvious reasons) it's only wise to claim your share of these sales online. What I always loved about WA is that they encourage you to do what you love – this makes running a business a lot more fun and profitable.
Affiliate Marketing Examples
For example, if you love video games – you should start a website that talks about video games and helps people make a purchasing decision. If you love motorcycles – you can start a website that talks about motorcycles, motorcycle accessories and parts to make your bike better. On this website you can tell people about all of those awesome products and tell them where they can buy these products (Amazon, etc.) and whenever people make a purchase – you get a commission! You do not need to take care of the warehouse storage, shipping, payments, customer service – you simply help people find the products they already want and you get paid for it.
This is by far my favorite business model ever. Now, don't be scared, Wealthy Affiliate will provide every single detail you need to know in order to do all of this properly. Once again, simply follow the step-by-step training and ask questions whenever something is unclear – the WA community is there to help you through every step.
I Am Living Proof Wealthy Affiliate Works
I already mentioned that I have been a member since 2007. In October 2020 I celebrated 13th year with WA community. 2021 will be my 14th year with Wealthy Affiliate. You might ask: "Alex, why remain inside the program for so long?  Haven't you learned everything there is to learn about online marketing?"
Well, this is another huge benefit of Wealthy Affiliate Platform – they stay updated! The online world changes fast. Kyle and Carson are extremely talented at keeping up with these updates and providing the most recent news and working strategies.
If you research any successful millionaire entrepreneur you will realize that they constantly learn new things. They attend seminars, hire coaches, read books, meet experts in their field – they stay updated and learn something new every single day. There hasn't been a single time that I came to Wealthy Affiliate and haven't learned something new – this is the reason I am still a member and still excited every time I log into my account.
"Learn Something New. Every Day."
Wealthy Affiliate Community and Support
The community aspect is also something that I really love and something other programs fail to provide. If you have difficulty with anything in the process, many members will able to help you instantly in WA Live Chat but what I love most is that people share their ideas and experiences. Listen to these experiences, learn from other people's mistakes and brainstorm with others!
Whenever I need an opinion on a new website I am creating or a new article I am writing – WA members are always there to share their opinions with me. The whole feel of an active community is simply amazing and Wealthy Affiliate is the only place where I have found such experience.
Ask Your Questions
There are many other online forums and programs that talk about making money online but whenever you ask a simple question many users will reply with: "Dude, this stupid question has been asked many times before – just google it!" – You will not get this kind of reply on WA. Wealthy Affiliate is a learning center so there are no stupid questions, every question is important and people will try to answer it as well as they can. However if you do not feel comfortable asking a question (don't be shy, just ask!) you could simply look through the resources and questions other people asked – I can almost guarantee you will find your answer within minutes.
You Don't Need to Believe Me!
Wealthy Affiliate Success Stories
Hundreds of Wealthy Affiliate members are sharing their success stories with the community. To be honest, I really enjoy reading these stories as they are very motivational! Here are just a few examples of Wealthy Affiliate success stories:
Over $1 Million earned through Affiliate Marketing
Making $1,000 in 3 days
Earning almost $200 from 1 sale
Here are more recent success stories from WA members:
$700+ Commission in One Day – What I've Learned
$7200 Results! How to Make Money Online Now
1 Year of Hard Work! From $39 month to $2,233 month!
So YouTube Just Paid Me $2,053.47
$286 Per Day? My Friend Said "Don't Do It!"
I can keep on going but I am sure you get the point by reading these Wealthy Affiliate reviews and stories.
A detailed look inside Wealthy Affiliate membership!
Wealthy Affiliate 2020 Updates
Wealthy Affiliate was launched in 2005 and it has been growing and improving for all these years. The founders invest hundreds of thousands of dollars into the platform every single year. When I first joined in 2007 the site looked completely different and I must admit, it had less training and less support. They had less tools and the site navigation was complicated.
However things have changed. There is a lot more training available. This includes video training. The free hosting that you get at WA is top-notch and is comparable to plans costing $50/month and more.
The support is amazing and is available 24 hours a day since Wealthy Affiliate now employs a full team of support staff.
Every website hosted at Wealthy Affiliate now has the ability to get FREE SSL. This is something that has conventionally cost $50+ per domain elsewhere. It's as simple as clocking the ON/OFF toggle. This certificate is incredibly important since Google has announced that an SSL certificate is a website rankling factor.
Wealthy Affiliate Premium Plus
Premium Plus is the all new membership level at Wealthy Affiliate that was announced in the late 2020. With Premium Plus at 99$ per month you will get access to more websites (50), faster site speeds, more training, more support and so on.
To be honest with you, I have not tried the Premium Plus yet so it simply wouldn't be right for me to encourage you to join that level. It does seem targeted to more advanced users, however I think that if you're ready to join premium – try the regular Premium first. If you feel like you need more – feel free to check out the Wealthy Affiliate Premium Plus.
Many other updates and features are coming to WA platform this year and I'll keep this wealthy affiliate review updated whenever they're released.
Frequently Asked Questions (Wealthy Affiliate Wiki)
I get lots of questions about Wealthy Affiliate. Here I've picked the most frequent questions and answered them. If you've got a question don't hesitate using the comment form below and I'll add it to this Wealthy Affiliate wiki.
Is Wealthy Affiliate Legit ?
Yes, Wealthy Affiliate is a legit company, based in BC, Canada. Wealthy Affiliate has been active since 2005 and remains very active in 2020. There are currently thousands of members using this platform to learn internet marketing and to learn how to build a successful online business. You don't have to trust my promise that their training courses are legit, you can try it out as a free member. The basic membership allows you to see what's inside the platform without making any commitments or payments.
Can you really make money with Wealthy Affiliate?
The short answer is: it depends. Wealthy Affiliate community offers a large amount of incredibly well-organized training courses that will teach you how to build an online business. This means setting up a website, creating high quality content, generating targeted traffic and converting your visitors into customers. WA does not promise to make you rich overnight – and that's something you should understand fully. In order to earn money you'll need to not only learn the theory but also take action.
I am not very technical, I've never built a website. Can I still use Wealthy Affiliate?
Of course you can! One of the greatest things about Wealthy Affiliate is the fact that it's built with YOU in mind. Every single step of online business building is explained in great detail, with text and video tutorials. This training makes WA very easy to use even for complete beginners.
Do I have to promote Wealthy Affiliate to Make Money?
No, You don't have to promote WA. Wealthy Affiliate does provide an amazing affiliate program but you aren't obliged to promote it to earn money. Unlike MLMs and other "business opportunities" WA will never force you to annoy your friends and family by trying to push them into your "down-line". WA is all about teaching you how to set-up a real online business where you can sell and/or promote any service or product that you can find in stores or online.
Is Wealthy Affiliate a pyramid scheme?
No. If a new member joins Wealthy Affiliate Premium using your affiliate link – you will earn a commission. Just like if you send a new customer to Amazon, eBay, Walmart or any other business that has affiliate programs (most businesses). However WA does not have any levels, downlines, uplines or anything else resembling network marketing, multi-level-marketing or pyramid schemes. If that's what you're looking for, WA is not for you.
I don't have a product to sell. How can Wealthy Affiliate help me?
Wealthy Affiliate teaches you how to build an affiliate marketing business. You can certainly learn how to create and sell your own product. However, WA will also teaches you how to make money by simply promoting other people's products! You can work with such giants as Amazon, Walmart, Apple and many others and earn commissions on products these companies already sell. How cool is that?
Wealthy Affiliate is Free to join. What's the catch?
You should be skeptical when offered something of great value for $0. So what's the catch when it comes to Wealthy Affiliate? The free membership gives you access to a small part of WA. In order to get more advanced training you'll have to upgrade to premium membership. That's the catch. However, I recommend starting with a FREE membership so you could get a feel of this platform and decide if you should upgrade. Free membership is enough to actually start earning as an affiliate. As Premium member you get access to more training and support.
If I build my websites with WA and then decide to leave, will I lose my websites?
No, you get to keep your websites for as long as you want. Many online programs don't allow you to take your website with you if you decide to leave them. However, Wealthy Affiliate will never take your website away if You cancel your membership. In fact, you have 30 full days after cancellation to transfer your websites wherever you want! As a Premium Member – you get the ability to build 10 sites.
How long does it take to make money on Wealthy Affiliate?
I get this question a lot! Unfortunately there is no answer to it. There are so many variables that it's simply impossible to estimate the timeline of success. It all depends on your work ethics, your ability to take action, the industry (or niche) that you will create your business is, the amount of work you're willing to put in and many many many other factors. I have seen people start making money with their online business in their first week, I have seen many others who took 1 year to see their first sale.
I've personally asked many successful WA members how long it took them to start making money, many told me it took from 3 to 6 months. Once again, there is NO general rule to it.
Why is Wealthy Affiliate not available in my country?
Wealthy Affiliate Premium is available to everyone and in every country. However, Wealthy Affiliate Free Membership is not available to 7 countries at the moment: Bangladesh, Egypt, India, Nigeria, Pakistan, Philippines, Vietnam. I do not own Wealthy Affiliate and I don't know why this decision was made so I can't offer any other details or support on this subject. If you live in one of these seven countries you can still join the premium membership of WA at any time at a regular price of $49 per month.
Does Wealthy Affiliate work in Canada?
Yes, Wealthy Affiliate works in Canada. In fact, it works in every country. WA teaches you how to build an affiliate marketing business online. As long as you have access to internet you can start building your own business. I am based in Montreal, Canada but I know many members who live (and successfully earn an income) in Australia, UK, Germany, Poland, India, Ukraine, Russia, France, Chile and many many other countries.
Is Wealthy Affiliate a scam?
Unfortunately the whole industry of internet marketing has earned quite a negative reputation. This happened mostly because of dishonest folks who would scam people by promising to reveal a secret shortcut to millions for a simple fee of $197 (or $39, or $57, or $1,997). As I often mention throughout my blog and my podcast, there isn't an easy way to riches. What makes Wealthy Affiliate very attractive is their starter membership. With this FREE membership you only get access to a small part of WA training but it's more than enough to show you the tremendous value you will get inside, without risking a single penny of your hard-earned money. Is wealthy affiliate a scam? No.The simple fact of letting people in for free eliminates any possibility of Wealthy Affiliate being a scam.
I am trying to create a free starter account on Wealthy Affiliate but it's telling me I already have one.
There could be several reason for this error. You might have already created an account in the past and you forgot about it. Someone might have created an account using your email address. Someone might have created a account using your IP (internet connection in your house) and WA thinks it might be a duplicate account. Since I do not run or own WA I cannot help you with this. You can contact WA support directly and see how they can help you out.
How do I make money from Wealthy Affiliate system?
If you have read this Wealthy Affiliate review thoroughly you understand that WA is not a "money making system" of any sort. You don't earn money from Wealthy Affiliate (although you can if you promote them). The main point is that you use WA as a training platform where you learn how to start an affiliate marketing business in any industry and than make money from that business. You also use Wealthy Affiliate support if you have any questions or get stuck along the way. Thousands of people within the community would love to help you out whenever you need help.
How do I get paid commissions online?
Different companies and networks online offer different ways of payment. For example if you are an affiliate of Amazon, they will pay you out through a check, gift card or a direct bank deposit. Some companies prefer to pay you by PayPal while other might go a different route. If you want to know how a company pays out the commission you can simply do a Google search on their affiliate program.
Wealthy Affiliate Complaints and Negative Reviews
If you have spent any considerable amount of time researching Wealthy Affiliate you might have realized there are not many negative reviews of WA online. Whenever you think of customer's rant and feedback you realize that unhappy customers are a lot more tempted to leave a bad review online than the satisfied once. This is true for restaurants, dentists, car dealerships and of course online training programs. Well over 1,000,000 people have joined Wealthy Affiliate since 2005 and as you can see the vast majority is completely happy with Wealthy Affiliate and everything it has to offer. This is why it's almost impossible to find any bad press about WA online.
WA members are welcome to review the program, unlike many MLM members. MLMs companies force their members to sign a non-disclosure agreement, meaning that these people will never be able to publicly review and expose the company and its practices. I managed to find a few negative Wealthy Affiliate reviews and complaints online and I came to the conclusion that these reviews were written for personal reasons. Mistakes happen, misunderstanding happens and every single business will have at least one customer who isn't going to be happy.
I openly disclose the fact that I will receive a small affiliate commission if someone decides to join WA Premium using one of my affiliate link. I often tell people that they are free to join WA without using my link but I encourage them to do so if they liked my review and the effort I put into explaining what it is and what it does. If someone thinks I don't deserve being compensated, they can join directly through WA main site, without using my links, no hard feelings. The goal here is to answer all the questions about WA.
Now that I think about it, I never go to a restaurant that has one hundred 5 star reviews and not a single bad review – it's impossible that every customer is 100% satisfied. My point is that out of 1,000,000+ members and 15 years in business Wealthy Affiliate received very few negative reviews from customers. How much does that tell you about a company?
Wealthy Affiliate Complaints
Most Wealthy Affiliate complaints that can be found online are about billing issues. I'd like to show a few of them to you.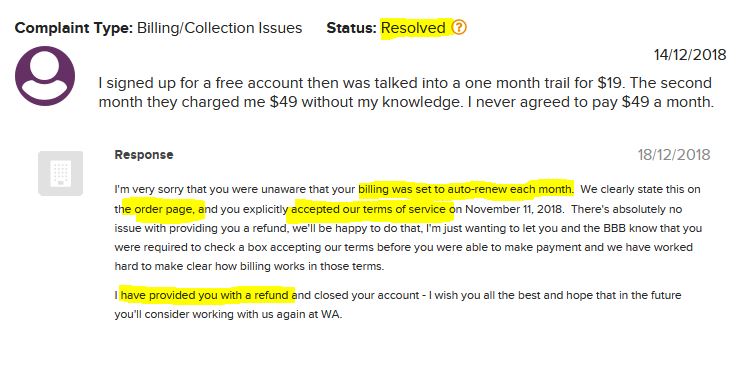 As mentioned in this review and on WA website, starter membership is completely free, you don't even need to put in your credit card details. So this membership stays free unless a customer willingly clicks on Upgrade to Premium, fills out billing information and credit card information. In this case WA offered the first month of premium membership at a discount, only $19 instead of the normal $49. Their order page makes it clear that it's a 1 month promotion and then the customer will be re-billed $49 per month, every month, until they cancel.
It is clear that this complaint comes from someone who did not read the order page (the information is stated at the top of the page, in BIG letters). This customer is also unaware of how monthly billing for a service works.
My internet provider automatically charges my credit card every month. My phone provider does the same. Utility companies, subscription boxes, email providers and many other companies work like this. How this specific customer is unaware of subscription billing is beyond me.
Forgot About Signing Up
Here is another example of a customer who left a wealthy affiliate complaint.
This person signed up as a premium member and opted for a yearly subscription, instead of monthly, because it is much cheaper. After a few months the customer completely forgot about their WA membership. I'm sure I wouldn't forget something that I paid almost $400 for but that's me.
A year later, the customer failed to cancel their subscription and was automatically charged for another year. By the way, cancelling your premium membership is quite simple and straight forward at WA. You do not need to send them emails or contact support team. Simply click on your account settings in the member's area and cancel your subscription.
This customer forgot that they signed up for a paid service. Can you really blame WA for it?
Wealthy Affiliate Issues
As you can see in the screenshots, these complaints have been closed as WA decided to help these past customers, even though it's clear that the customers forgot about what they purchased or failed to read the numbers and conditions on the top of the order page.
Now if you have a complaint about Wealthy Affiliate, I invite you to submit a comment on this very review.
See You Inside Wealthy Affiliate!
As I am finishing up this Wealthy Affiliate Review I realize this is the longest review I have written for anything or anyone – I guess I truly am very excited about WA ? At this point I would like to invite you to check out Wealthy Affiliate for yourself – it is completely free after all so you've got nothing to lose. Once you're inside, don't forget to pass by my WA profile and say hi. Still have questions? Please use the comment form below. I'd love to hear from you!
Alex Sol