When talking about getting good Google rankings most of us think about backlinks. Sure, backlinks are very important but there are a few ranking factors that most people seems to overlook.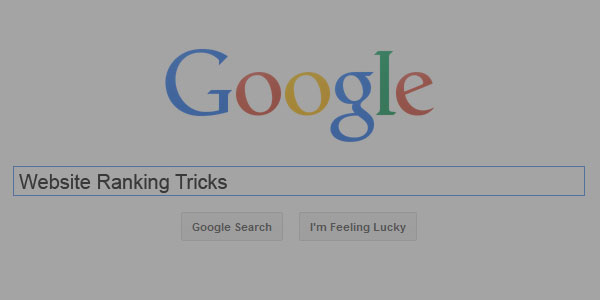 Now this post isn't about using meta tags, meta keywords and meta description for every post and page of your website or a blog. This post isn't about blasting your new content all over social media (which of course is important). So let's dive right into it!
Image Search Engine Optimization
You are certainly using images in your content. Simply adding media as images and videos to your posts and pages usually helps with rankings. Besides ranking it helps your readers. When you have a big block of text, people get bored and their eyes start to bleed… or almost. Using images to split your content is a must for everyone. So you found proper images for your website now you need to do a little bit more: the image SEO.
Proper search engine optimization for images will help you rank the images in Google Image search. When people search for images and find yours right on top, chances are they will visit your blog and possible become loyal readers or customers. So how do you optimize an image for search? I am using WordPress and I recommend it to everyone else. Image optimization takes only a few seconds if you are using WordPress.
1. Title or File Name. When you are getting an image ready for your website, make sure to save it with proper file name. Search engines cannot see what's in the image so you need to tell them. While DCIMAGE_4057.jpg might sound very tempting, you should rename the image before uploading it. For instance the image in the example below is named "SEO-for-images.jpg". As you can see, the title given by WordPress is the same as file name. When search engine spiders crawl your site they pay attention to keywords used for images. Use your keyword in the title.
2. Caption. I am not sure if caption directly influences your image ranking but it does help your users understand the image. If you uploaded a picture of a green frog, please don't write "Green Frog" in your caption. Your readers aren't stupid and they know it's a green frog. Try to come up with something more interesting.
3. Alt Text. Alternative text is basically what search engines use to understand what exactly is on that image. This is very important and proper Alt Text will help you rank your image and your website. I usually try to use my desired keyword phrase for the alt text. Often it's a variation of the Title. It is important to not "keyword stuff" this attribute as Google may penalize that image (or your site if you do it with too often). If you uploaded a picture of headphones, feel free to use Alt Text such as "Sony XB400 Headphones" but please do NOT write "Best Headphones Sony XB400 Cheap Buy Now Rebate Top Rated…" get the point? Alt-Text is also visible when someone hovers over the photo.
4. Description. Description is used to describe exactly what is in the image. A lot of people with sigh issues are using the web as well and usually they use software that reads everything out loud. When description is empty, they software would skip it. It's unclear if description influences the image ranking but I would like to speculate here and say that it does. I've noticed that most of my images that rank well usually have the description filled out (along with alt text, title and caption).
Page Load Time
Another overlooked ranking factor is the loading speed of your website. If you look through Google's top rankings, the websites that rank well usually load fast. Google's main goal, as they claim, is user experience. If your site takes forever to load the user is going to have a bad time. Google crawlers tell you how long it takes them to crawl your site and the longer it takes, the less chances you have of getting the number one spot. Bounce rate also play a big role in rankings (more on that later). If your site is slow, people will leave it rather fast hence making your bounce rate worse and worse.
Most researches point out that most people expect the site to load within 3 seconds. I've worked hard on optimizing my sites to load faster yet somehow I was stuck between 4 and 6 seconds in general, until recently. About 10 days ago I finally switched my hosting provider and reduced my loading time by (almost) 3! Extra Paycheck Blog went from 4.45 seconds load time to 1.59 seconds!
You can use free tools such as Pingdom to see your load time. Make sure you run a test a few times because pingdom uses different test locations. For instance if your hosting server is located in the USA, load test from Europe will show you a much slower speed then a test from USA. Look over the detailed report and find out what takes so long to load. If it is in fact your hosting provider – consider switching to a faster host.
You should also look into using CloudFlare. These guys basically mirror your website on different servers which increases load time by serving users who are the closest to a specific server. The best part? You can use CloudFlare completely free.
Bounce Rate
It is a bad sign if people who visit your site close it within seconds. Most often this happens with completely irrelevant content. If you managed to rank for "Easy Weight Loss" yet your page talks about grooming dogs – visitors will close that page in a heartbeat. As your bounce rate goes up – your ranking position will start to drop. Google wants to see that your visitors actually spend time on your site (because it's useful).
Besides providing irrelevant content there are many other reasons why people are so quick to leave your website. Let's examine some of these factors and try to correct them.
1. Pop-ups. If you serve a pop-up of some sort to a visitor who just came to your site, you are simply annoying that visitor. Some of the more patient ones will close the pop-up, however most will simply close your page. I understand that you might be giving out an awesome free e-book to them but don't interrupt them with it just yet. If you got your visitor to start reading your content, the last thing you want to do is make them stop reading by blocking that content with a pop-up window. I hate pop-ups and I usually recommend against using them, however if you absolutely must use one – make sure it appears before the visitor leaves your site. I've seen many websites serve me a pop-up with some kind of offer just before I click on that little "x". Do that.
2. The cluster. Many website owners believe that piece of content they produce is magical and the site visitor must absolutely have access to all of it at once. These folks  manage to squeeze all of their articles into the home page. When you come to such site you don't know where to begin because there is so much going on! 20 articles, a few pop-ups, heavy loaded side bar with a bunch of flashing banners and a few other things.  It's not 1999 and you aren't Altavista, so make your site cluster free and easy to understand.
3. Complicated navigation. Not quite a cluster issue but if your site seems hard to navigate – people will not stay there. Make sure you only use essential navigation items instead of having a button for every single category, archive and post. Make sure the navigation menu is easily accessible and visible. This alone will reduce your bounce rate.
4. Bad design. Sites with simply bad design scare people away. Outdated web design can also scare your visitors away. Review your website, ask for feedback on design related forums or communities. Pay someone if you have to. You aren't fooling anyone. I thought the design of this very blog was okay (nothing special but not horrible) and recently I've been told by an expert that my design is pretty dated. This upset me a little but forced me to make a decision for a redesign which will be happening in the near future. Show your visitors that you care and stay up to date.
Going back to well optimized images.
Final Thoughts
There are hundreds if not thousands of factors Google considers when ranking a website in its search engine results and you're probably aware of most of them. However many (if not most) bloggers and site owners don't think of the three factors I described above. Simply paying attention to your load time and your images already gives you a chance to outrank some of your competitors who don't bother with "little things". I'd like to finish this post with the same subject I started with: images.
People love images and you definitely must use them in your content. When creating or editing an image you should consider making the size as small as possible. JPEG is usually the best format for this. Often time you can reduce the size of an image from 1,000Kb to under 100Kb by simply saving it in JPEG format without losing out on quality. Resizing the images is also a great idea but try to resize them before you upload them. If you need to post a 600x600px image, save it as such. Don't upload 3000x3000px and force your site to resize it. When your server loads the site it will try to load the FULL size image and then resize it. By doing so you are increasing your site's load time for nothing. I use Photoshop for images and I when I save an image in Photoshop I don't click on "SAVE AS" but rather "Save for Web & Devices". This way Photoshop already makes the file image smaller then in many other formats. There are many free  alternatives available (such as GIMP).
Do you normally pay attention to rankings factors I mentioned in this post? What other ranking factors do you usually care for? Share your thoughts in the comments below!
– Alex