If you have found this review, it's probably because you have decided to look up some information about Copy My Commissions to figure out if it is a scam or a legitimate business opportunity to make money online. Congratulations, you are already smarter than 95% of people that stumble upon their sales page! If you simply want the answer, here it is: Copy My Commissions is definitely a scam, you should not waste your money on them and find a legitimate way of making money online (because those do exist).
However, I understand why some of you might want a detailed review and explanation so I've decided to write this post. I want to expose why exactly they are a scam, and the signs to watch out for to avoid falling for such programs in the future. Let's get into it!
What is Copy My Commissions?
If you have watched their "secret" video that "might be destroyed in 24h" (spoiler: none of that is true), you have been promised an amazing system that after setting up will make you hundreds of dollars per day on autopilot. You also know that in their one hour long video, they don't actually get around explaining anything – it's all hype and false promises. They say you will get access to a "secret software" that will automatically collect emails for you, and then turn those emails into money.
Copy My Commissions Review
What is their "secret software"?
Here is the truth: the secret software is simply an email opt-in plugin. It's not an exclusive software at all! I have actually found it with some very basic research myself, on envato market. There are hundreds of such software online – they are nothing special and you probably don't even need one!
Here's a side by side comparison from Copy My Commission's video and their actual sales page. You can obviously see that Copy My Commissions is simply promoting someone else's software – and they simply changed the name. This is called white label branding. You can purchase the software with the rights of re-branding it to your own name. Everything else is the same!
And if you trust the real creators of that plugin, they do not promise that the software will make you rich. They don't, because they know that's not true. Email opt-ins are not a magic way to make money, they are simply one of many tools business owners use to promote their business. They are selling you a hammer, promising that it will build houses on its own and you will become the biggest contractor in town. Ridiculous right? What Copy My Commissions are doing is hyping up that "hammer", calling it magic and hoping you don't know enough about the construction business to realize it's all BS. They even try to tell you that hammers don't exist anywhere else in the world. "Software You Can't Buy Even If You Wanted To". Yeah, right.
And it's nothing complicated either, I use such a software myself on this very site. You might have seen a popup already. The one I use is called Bloom, and came FREE with my theme. But like I said, that software is simply a tool. It does not work for you magically, it does not bring you free money and it's not as easy as setting it up in 15 minutes. Buying it without already having a website, is simply a waste of money. Even if you do have a website you would need to sign up to a reputable email marketing solution such as MailChimp or Aweber and start building your email list subscribers. This isn't an easy task.
Unhappy Customers
But that's not all – the more I started digging for information about this scam, the more dirt I found on them. According to testimonials on their official Facebook Page, it looks like Copy my Commissions never even deliver you the product! That money-back guarantee is absolutely false, and they were never planning to respect it. At least for this customer the experience has been very sour.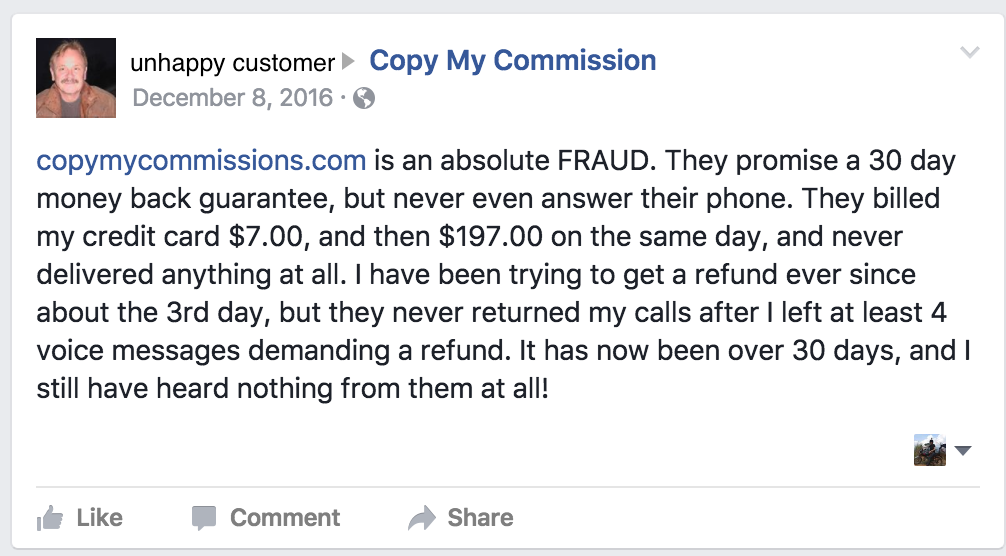 What are the red flags ?
False Scarcity
They hook you in saying the video is secret, and will disappear in 24h if you don't buy their offer today. That is simply a lie. Come back to their page tomorrow, and it will still be there. I can tell you it was there a month ago. In fact, their website was registered in April of 2016. They are trying to trick you into making a rash decision. Copy My Commissions tries to paint their program as a secret, an exclusive community and that only you can join it right then and there. They are playing with your emotions and basic human instincts to trick you. These folks even try to "challenge" you, and borderline call you stupid to anger you into buying:
Promises of "free money" on autopilot
All the claims of earning thousands every day, without lifting a finger seem very appealing. But we all know that's just not reality. Do you really think they would be selling you that software for 47$ if it was so effortless to make money with it? The reality is that you can't get free money on the internet, just like everywhere else in life. They prey on beginners that don't know any better and people desperate for money. They promise you will make thousands, without lifting a finger. Sounds too good to be true? That's because it is. If it was that easy we'd all be millionaires.
No concrete information
This is a very telling sign of most "make money online" scams. They talk about all the money you will make and go on and on about how great your life will be once you buy it. The video is almost one hour long – how long did they actually spend describing exactly what their program does? Only a couple minutes although it's still unclear how you will actually be making money. But they do spend an incredible amount of time talking about your future car and vacations. How great it's going to feel not to worry about money. The goal is to make you dream, let your guard down and distract you from asking questions. A program that does not explain what it actually is on their sales page is almost definitely a scam. They want you to buy blindly without asking questions.
Copy My Commissions Upsells and Hidden Fees
If you do get to the actual check out page for Copy My Commissions you will see the total price: $47. But is it the real total?
The "terms of service" page cannot be located on the site while you're watching the sales video or even when you're checking out. However I was able to find the "support" site which had this page listed. Here are some terms in the "fine print":
Your setup fee of $47 is charged initially and gives you instant digital access to our 19 step training program in our members area. Your monthly fee of $38.64 starts 30 days after you pay the setup fee
Yes, they sign you up to an automatic payment of $38.64 per month. The "recurring" model is common for many businesses however it must be shown and explained before you make the purchase. Copy My Commissions does a great job hiding this extra fee.
After your initial payment of $47 you will also be pressured to pay for a website and hosting. You do need to have a website in order to make money online. They'll make it very clear that you won't be making any money unless you set up a site:
If you purchase the hosting upgrade you will be able to choose from two plans: $197 for your website setup plus 6 months of hosting or $97 for your website setup plus 3 months of hosting. Both of these charges will happen instantly when you press the upgrade button and will be charged to your card on file.
$197 for your website setup plus 6 months of website hosting. Wow. This is incredibly overpriced.
I did a Youtube video where I explain how you can setup a website in less than a minute and completely free of charge. Here it is:

You can do it right now:

One last thing thing from the Terms and Conditions page on the Copy My Commissions website:
Your use of the Service is at your sole risk. The Service is provided on an "AS IS" and "AS AVAILABLE" basis. The Service is provided without warranties of any kind, whether express or implied, including, but not limited to, implied warranties of merchantability, fitness for a particular purpose, non-infringement or course of performance.

Blackwing LLC its subsidiaries, affiliates, and its licensors do not warrant that a) the Service will function uninterrupted, secure or available at any particular time or location; b) any errors or defects will be corrected; c) the Service is free of viruses or other harmful components; or d) the results of using the Service will meet your requirements.
Basically they are saying that there is no guarantee of any kind. That their promises of income are made up from thin air and do not hold any truth. They are also saying that their program and hosting that you paid for might be unavailable. In fact they can't even guarantee that their service or hosting is virus free… Do I need to say more?
Copy My Commissions Refund
If you have bought into the Copy My Commissions lie you mind be seeking a refund. Their official page states the following information:
Contact us

If you have any questions about our Returns and Refunds Policy, please contact us:
email: support@copymycommissions.net

phone: 866 943 0714

visiting this page on our website: http://copymycommissions.com/help
This program is sold through a digital marketplace called ClickBetter. It might be a good idea to get in touch with ClickBetter directly. Their support phone number is 1-800-719-1832. You can also reach their support desk here. If everything fails you might need to get in touch directly with your credit card issuer.
My Recommendation
There certainly are ways to make money online legitimately – but doing such a thing requires hard work and a time investment. There are simply no shortcuts to riches. But good news is, that there is a community that can teach you everything you need to know, and it's completely free to join. There are even classes about how to properly use e-mail opt-in plugins there too, among dozens of others.
Put your credit card away and read about my #1 recommendation for online business.
Questions? Comments? Leave them in the comment box below!