Hey, folks!
It's been over a month since my last blog post here (and I feel terrible about it) but I have been busy.
2014 was a big year for this blog. I have published 49 blog posts which is far more than I posted in any other year since 2008.
To be honest I was hoping to post a lot more but I failed at that. However, my blog posts became longer, giving a lot more details than in previous years. If in 2008 my posts were 300 words long, in 2014 they were 1,000+ words. Now, why haven't I been active since December 2014? I was simply working behind the scenes of Extra Paycheck. Get comfy as I am about to list everything that's been happening and that's going to happen here in 2015!
The Hosting Switch
In early November 2014 I finally moved all of my websites to a new hosting provider. This in itself was an adventure. During the process I realized that I have some "dead" websites, websites that were registered and abandoned along the way. Some were put on "hold". At that point I had to decide which sites I am keeping, which sites I am getting rid of. This also triggered the question of renewing domain names since I had to decide which of my 30+ domain names are worth keeping.
My new hosting provider seems to be a lot faster than Hostgator so my websites started loading at a way better speed. Some pages even got a boost in Search Engine Results Pages, so yes, your website speed does influence SEO. Now here is a problem with making your website faster: it's addictive. You'll start looking for other ways of speeding up your website and that's exactly what happened to me.
Goal #1: The Massive Redesign
While researching other ways to speed-up my websites I got a chance to get my website reviewed by an expert in that field. He opened my eyes to a subject that I didn't want to touch with a ten foot pole: the outdated website design. I am not a web designer so I am not always updated on that subject. However, I've spoken to some other folks and all confirmed that my design was in fact outdated. I had to agree with them: the blog had its last facelift in 2012. Besides looking a little outdated the website wasn't very mobile-friendly and this had to be fixed as 40% of my visitors come here on smartphones and tablets.
So in the end of December 2014 I started re-designing the Extra Paycheck Blog. I had a somewhat clear goal in my mind so I got to work. I have decided to use Divi by Elegant Themes as it's one of the best themes out there at the moment. It's incredibly customizable, it looks great and it's 100% responsive.
If you have been to my site before I am sure you have noticed the difference 😉
The whole re-design wasn't only about the look of the site but about the structure as well so in the next blog post I will go in-depth into the subject of that re-design. I will also explain why I organized things in certain way and I'll share some of my "secrets" that will make this site perform and earn better.
Goal #2: The Email List
About a year ago I published a post where I explained how I destroyed this blog in the past. The blog wasn't the only issue, I lost a big chunk of my online business because I was careless. What got me really down and demotivated was the loss of about 7,000 email subscribers. That list took a long time to build and I simply threw it away. This got me so frustrated that I developed some kind of repulsion towards email marketing. The decision was final: no more email marketing for me.
But we change as time passes. And in 2014 I got over that old incident and decided I had to start a new list of email subscribers.
If you're interested, here it is:
​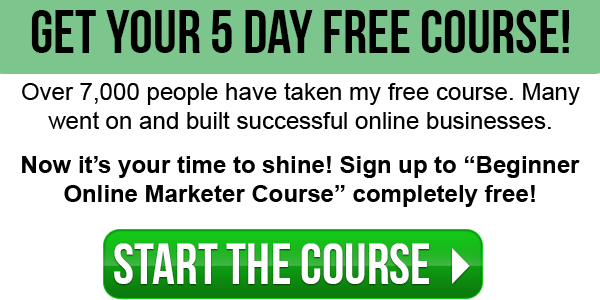 ​
This is a great way to connect with your readers, it's also an efficient way to earn money, if done properly. So while updating everything on the site I also set-up an autoresponder and created a free course to entice the subscriptions. I had to build a lot of great content and it took a LOT of time but I am sure my future email subscribers will really appreciate the information I share with them.
Growing a decent email list of loyal subscribers is one of my big goals for 2015.
Goal #3: The Extra Paycheck Podcast

Yes, a podcast. I have been listening to different online shows for a long time. I've learned a ton from marketing podcasts and I feel like this is one of the best ways to share information with others. The plan is to have the first few episodes in near future (hopefully February). Over the past month I've spent countless hours researching the subject of podcasting, audio recording, audio editing, etc.
At this moment I've purchased a microphone, learned the basics of audio editing software and have most of of what I need set-up. I'll need to plan the first 3-4 episodes of the Extra Paycheck podcast, invite guests on my show, purchase and set-up podcast hosting and then launch it!
Main format of the podcast will consist of interviews with interesting people who have built a successful online business. If you are one of these people or if you know someone who makes a living online, please do let me know.
This is a whole new venture and I haven't done anything like that before so it will be a steep learning curve. Many people start podcasts but abandon them after a few months because it's a lot of work but I am very serious about it and I am in it for the long haul. So stick around, the show's coming soon.
Podcast will be my most challenging goal of 2015.
Other Projects

Besides the Extra Paycheck Blog I'll be working on all of my other online (and offline) projects throughout the year. I am planning on sharing some of those projects on this blog, so you could see what works online and what doesn't. From time to time I start new projects and I will certainly do the same this year however I will concentrate more time on some existing websites and online businesses. Once again, I'll be sharing details about all of that during the year 2015.
Thanks for reading and I'd love to hear your comments, questions and suggestions! Don't be shy, leave a comment below.
– Alex