I tend to get lost in details when I write new posts on this blog. I often talk about more advanced topics like creating images for your blog, doing search engine optimization or getting yourself motivated. However, I noticed that a lot of people aren't ready for the details; all they really want to know is how to start their own blog (or site).
In this post I will go back to basics. I will compare some of the most popular blogging platforms and site builders and take you, step by step, to building your first blog.
There are many reasons to start your own blog. You might simply want to share your weird fetishes with the world. You might want to talk about your hobby. You might want to make money with your blog. You might want to start a blog in order to promote and market your business.  Starting a blog might seem like a complicated task but it shouldn't be. If you use a proper platform and good guidance – you'll see how easy it really is.
I will cover the 5 main steps to starting your own blog:
Registering a blog.
Changing the setting on your new blog.
Setting-up necessary plug-ins for your blog.
Choosing the design for your blog.
Putting content on your blog.
There are two (2) main FREE blogging platforms: WordPress  (WP) and Blogger. I have used both in the past years however I am now only using WordPress.  WP has been proven to be the most search engine optimized platform. Google owns Blogger but Matt Cutts, the head of Google's webspam team uses and recommends WordPress.
There are also many "free website" platforms such as Wix and Weebly but I highly suggest against them for several reasons. Website platforms are not as flexible and customizable as WordPress.  They are not well SEO-optimized. The worst part – they put their ads on your website. When you get a visitor coming to your website, you can easily lose this visitor if she/he clicks on those ads.
Before I go into the steps of setting up a WordPress blog, I'd like to share a something really cool with you. It's called SiteRubix. Check out the video I made when I show exactly how it works:
In short, SiteRubix creates a WordPress blog for you and automates the steps 1,2,3 and 4.

In less than 30 seconds it creates your site, makes some crucial changes to blog's setting and also installs the most useful plug-ins and features.  Normally you would spend hours doing all that work manually. Siterubix only needs 15 seconds. And did I mention it's free?
If you decide to do everything manually instead of using SiteRubix, here is how it's done.
Register a Blog.
When you are registering your blog and creating your blog's address (or domain) you have 2 options. Option #1: You use a free blog with a free domain name. In this case your site address will look similar to MyWebsite.Wordpress,com. Get started with SiteRubix here or get started with WordPress here.
Option #2: Buy your own domain name. You can buy a domain name such as MyWebsite.com and point it to your blog. This is more complicated but it's worth it if you are serious about building your blog into something big and important. Besides, a domain name costs only $10 per year.
Change setting on your new blog.
Before starting to post content on your new blog, you must make sure it's set-up properly.
On the left-hand side click on Settings then Permalinks. Change the common settings from Default to Post Name then click Save Changes. Got to Settings -> Reading and make sure the Search Engine Visibility (Discourage search engines from indexing this site) is unchecked.
Install necessary plug-ins for your blog.
There are thousands of plugins available for WordPress, however just a few of them are a MUST for every single blog.  You absolutely need to find and install All in One SEO Pack, and SI CAPTCHA Anti-Spam. Simply click on Plugins -> Add New, now search for the 2 plugins I just named.
All in One SEO pack will help with to properly set-up the on-site part of search engine optimization. SI CAPTCHA will help your website detect and prevent spammy comments. Both plugins are completely free of charge.
Chose the design for your blog.
There are thousands if not millions of WordPress themes available online. Some themes cost money but many of them are completely free. To change the design of your website, go to Appearance -> Themes, Click on Install Themes and search for a theme buy Keywors, Featured or Newest. You can preview the themes to get an idea of how your blog would look, once you find the theme you like, simply click on Install.
Although there are thousands of free themes available, I often recommend buying a premium theme for several reasons. You can find the details in this post.
Put content on your blog.
Although this is the last step to starting your own blog – it's the most important step. Once everything is set-up, you need to start creative great content for your blog. If you do not put out good content often enough, no one is going to read your blog. You will need a lot of readers especially if you want to make money blogging.
Whenever you want to post an article on your blog, simply click on Posts -> Add New. Write a title for your post and create the actual article. On the right site, Add a new category related to the post and write a few tags and click on Publish!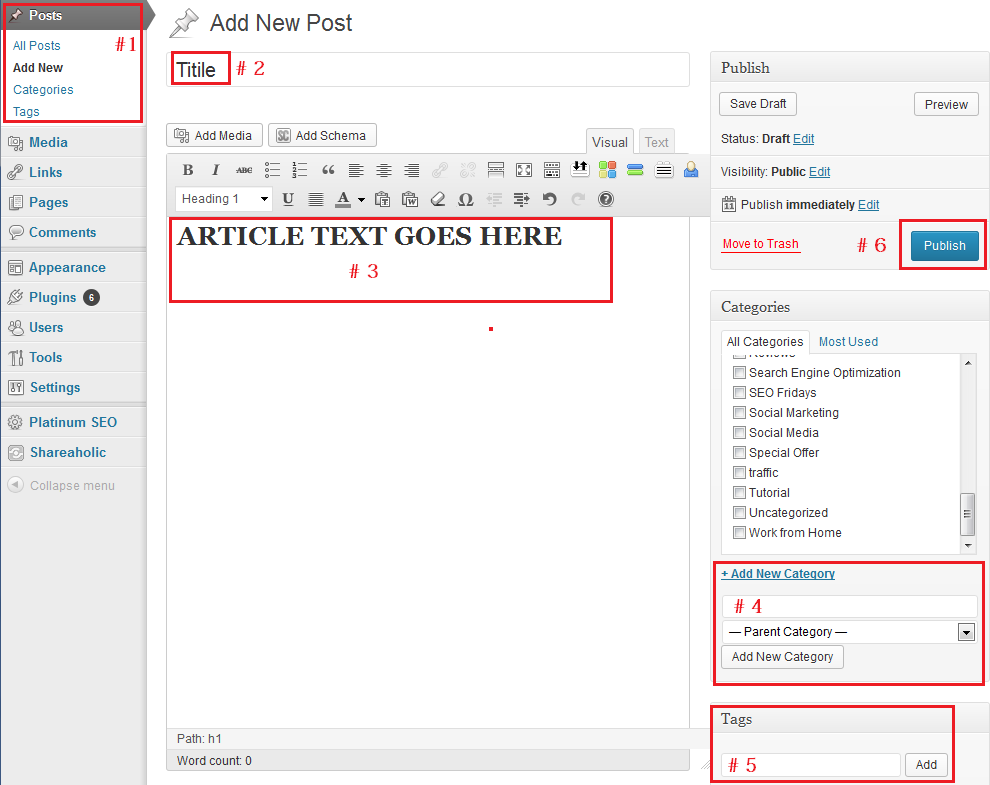 Tip for the future.
We all need images for our blogs. When I first started Internet Marketing I would simply look for an image on Google and use those images on my sites. Eventually I realized that using someone's image is considered as copy infringement and may bring a lawsuit. This is when I erased all of the old images from my content and I took images from websites that offered "free images". This worked for a while, until I heard that you can get sued for using these "free" images as well. I came up with my own solution to finding images for my blogs and sites and I blogged about it.
Conclusion.
If you want to start your own blog or website, you should do it with WordPress. If you want your website set up in seconds instead of hours – let SiteRubix do it for you.
Do you have any questions? Comment below!
– Alex