Thousands of people are constantly searching for the best theme to use on their WordPress based website. If you spend any considerable amount of time on that research you would always come across 2-3 options. There are millions of WordPress themes, free and paid but only a few make it to the top and deserve the title of "World's Best WordPress Theme".
"Divi" by Elegant Themes is one of these options.
At some point I had my blog hacked and the hacker exploited the free theme I was using. I can't go into details since I am not a programmer or a hacker so I don't know how exactly it was done, however I found at that the theme I was using was at fault. This is when I decided to stick with Premium (paid) WordPress themes since they usually offer a lot more security. The natural way to go was with Elegant Themes (ET). I chose them mostly because all their themes looked great, I had access to about 80 themes the price was low (get 20% discount here) and their support seemed pretty good.
I used different ET themes on my blogs and in December of 2013 a revolution happened. ET introduced their all new Divi theme. I was blown away by it and in early 2014 switched one of my blogs to Divi. Later that year Divi 2.0 came out and I made the decision to switch most of my websites to Divi. So this is more of a Divi 2.0 review.
Divi Theme – Best Theme Yet!
So what's so special about Divi? Divi theme is flexible, powerful, beautiful and fully responsive. The main issue most people have with WordPress themes is the lack of ability to customize a theme. If you are serious about your website you will end up wanting things to look a certain way and most themes will not allow you to do any customization. Besides, you would need to learn coding in order to do the slightest changes to most WordPress themes (and let's not forget that most theme don't allow you to change any parts of the code).
Divi comes as a blank canvas. The only limit with a website designed with Divi is your imagination.
Divi themes comes with a ton of building blocks where you decided what you want to have on your website. You decided the size of your columns, number of rows, placement of images and a lot more. However, if you aren't sure where to start Divi comes with 30+ predefined layouts, of course you can edit all of these layouts to your liking. This means that you can use any layout that suits your specific needs instead of building a layout from scratch. Another cool feature is once you have customized a predefined layout or created your own, you can save it, export it and use it on your other blogs that also run Divi.
Divi Theme Review
So how exactly does Divi theme work?
Divi ePanel
You install the theme in WordPress and you'll be presented with Elegant Theme's ePanel. This is the main control panel or your blog's settings:
Here you can set your onsite SEO, integrate autoresponders (Aweber, Mailchimp, GetResponce, etc) decided which info should or shouldn't show on pages and posts (author name, date, etc). There is also a custom CSS field (more on that later). All this is straightforward and it's mostly related to website's setting, not the actual website design.
Divi Page Builder
After looking through ePanel you should create a new page to get a feel of how Divi works. By the way, you can use Divi's page builder on all of your existing pages as well. So here is how Divi's Page Builder looks:
This is what I meant when I told you about Divi layouts. You can either use one of 30+ predefined layouts that come with Divi or you can start your own layout from scratch, this is what I did in the screenshot above.
Divi Site Builder Sections
In this specific example you see 4 different sections:
First section is a Fullwidth section. This section goes across your site, from left to right, from one edge of the screen to other.
The second section is a normal section, it will be centered on the screen.
The third is a specialty section. As you can see the template of the specialty section is very different from the other sections.
The fourth section is another regular section, just like the 2nd one.
Within these sections you can decide how many columns you want. One, two, three, four… you can also decide if you want one column to be larger than the other, etc. Please note that I am using only 4 sections for the purpose of this review however you can add as many sections as you wish.
Divi Site Builder Modules
So once you've decided on your sections (and columns) you can start adding modules into these sections. In the screenshot above you can see a portfolio module in the first section. The second section has a one column text module. The third section get a little more elaborate, on the left site I have a tab next to a subscription form while on the right side I have a  Call to Action module and an audio module right underneath it. Finally in the 4th module I added 4 columns and each column has a different module in it: Pricing table, Bar counter, Blurb and a Contact Form.
I haven't used most of these modules yet but this list gives you a good idea of all the possibilities that Divi 2.0 can offer. Don't forget that the folks at Elegant Themes are constantly updating their product and they keep adding new features and modules to Divi, They strive on their customers' feedback and they add functions that Divi users really want.
Divi Site Builder also allows you to drag and drop the modules and sections to rearrange them in a different way. How awesome is that?
7 "Must-Know" Facts About Divi Theme
Divi is at version 2.3 (Feb. 2015) which means that developers improve the theme as often as possible
Divi is WooCommerce ready, making it a perfect choice for any e-commerce building
Divi integrates flawlessly with MailChimp, Aweber and other email subscription services
Divi is fully responsive and looks great on all devices and brosers
There are 50 in-depth video tutorials that show and explain how to use Divi and its elements
Divi 2.3 is fully translated into 32 languages! I dare you to show another developer that did this to his theme!
You can finally have that hip video background on your blog, thanks to Divi theme
Completely Custom Divi Sites
So far I have listed only a basic overview of Divi theme and its capabilities. To be honest with you it would probably take a week of writing to explain what Divi is really capable of. I guess the main point of this review is to tell you that you can build a completely unique website using Divi. Most of the websites built on the same theme look very similar which can be frustrating but Divi allows you to build a blog (or a site) that's doesn't resemble any other site out there… and there are over 300 Million blogs online at the moment. You no longer need to sacrifice your artistic self because of a theme design limitations.
Here are just a few examples of sites built with Divi (of course I had to include Extra Paycheck):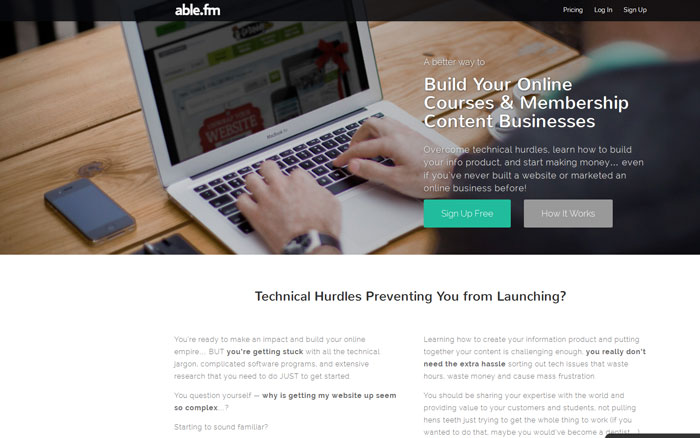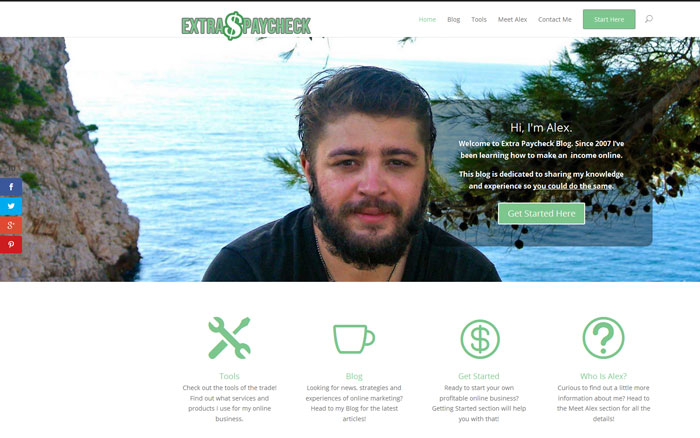 Divi is completely responsive and it easily adapts to any screen and platform. Use it across all web browsers, desktops, laptops, tablets and smartphones. With Divi you do not need to worry about creating a "mobile version" of the site. Divi is mobile, responsive and simply amazing.
I see more an more professional web designers using Divi as their platform which tells a lot about this theme. If you want to see more detailed information and capabilities of Divi 2.0 Theme then check out this Preview Site at Elegant Themes.
Divi Theme Support
As I mentioned in the beginning of this article, proper customer support was one of the reasons I decided to buy a membership with Elegant Themes.
There is a support forum for ET members and it's nothing short of amazing. Whenever you don't understand something or if you need to create something on your website, support staff is always there to help you out. I don't ask too many question on the forum because a simple search usually gives me the exact answer. For example when I was looking for things like: "How to reposition my logo", "how to add social share buttons to the menu" or "how to change the size of the sidebar" I always found a support ticket where someone else has already asked the same thing.
This brings me to another point. From time to time people's desires can't be fixed with a click of a button. For example you want to customize something in such way that's not already programmed into Divi. In that case support will provide you with custom CSS code. You take that code and copy past it into the "Custom CSS" box withing your Divi ePanel. Since it goes into this specific form, there is no chance you're going to mess up the template coding and break your website. This is so simple yet so genius!
However, whenever I couldn't find an answer I would post a new question and support staff would get back to me within minutes (most of the time). I have tried a few paid themes besides Elegant Themes but I never found that kind of support.
Besides the official support I came across a very passionate group of over 2,000 Divi users on Facebook. Many of these folks are designers and programmers and they are more than happy to share ideas, experiences, tips and tricks. I've had some of these folks help me create some custom stuff for my blogs, free of charge of course. Elegant Themes didn't only build a great product, they also managed to build a strong following and a very loyal group of passionate users.
Ok so we've got the ET support, Facebook group created by ET clients and I should mention that Nick Roach, the owner of Elegant Themes did an amazing job creating a decent series of training videos that show you, step by step how to use Divi theme.
I'll say it once again. My work is building and running an online business and it takes up a lot of my time. I don't have countless hours to spend on learning how to code, how CSS and php work, etc. The simplicity of Divi and all the available support makes my life a lot simpler.
Divi Theme Pricing
Divi theme is not sold as a standalone theme but rather as a package of 86 themes (and counting) as an Elegant Themes membership. 1 year "Personal" membership costs $69, 1 year "Developer" membership costs $89 (although I can hook you up with a discount) or you could pay a one time fee of $249 to get a lifetime access to Elegant Themes. All memberships come with access to support forum.
The natural question here is what happens if you decide to not renew your membership after 1 year? If you decide to cancel your membership after one year you are still allowed to use the themes you've downloaded for as long as you want! However, you will lose access to support and theme updates. Support costs money, so does constant development and this is why Elegant Themes chose the recurring subscription pricing model.
About that hook up…
If you go directly to Elegant Themes websites you will see the pricing I described above. However, if you use this link you will get access to Developer's membership at a 20% discount, no coupon code needed. This means that your developer's license will cost you only $70, just a buck more than the personal license.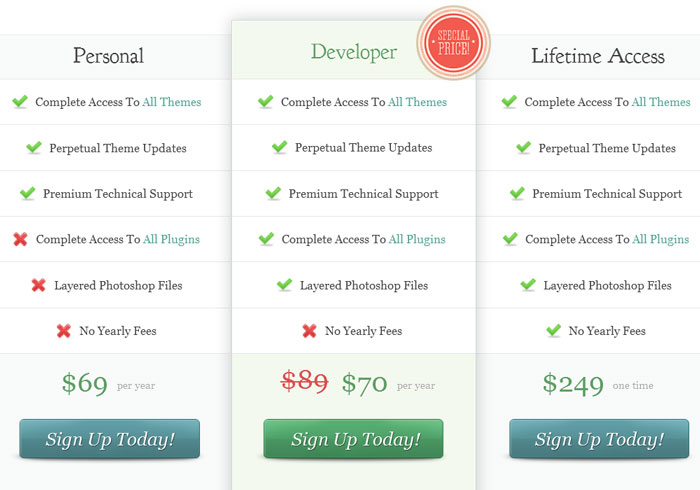 What do you get with a Developer's license? Well, there are two main benefits: access to PSD files and access to all of their plugins. Yes, Elegant Themes also keeps on developing new WordPress plugins.
Personally I don't care about the PDS files. These files are the core graphic files of the theme and you can edit them to your liking. I am not a designer so I never downloaded the PSD files and I don't see the reason to do it, I am very happy with how Divi looks out of the box.
Plugins – this is where it gets interesting. You have probably noticed social sharing plugins on this very site. I have a floating bar on the left side, I have a widget on the sidebar and I have some social sharing buttons at the end of every post.
I have got through a dozen of different Social Sharing plugins over the years, some were not too bad, others were horrible. Apparently a lot of people had the pain of finding a proper way to integrate social sharing into their WordPress blog. This is why ET decided to develop their own plugin to do this: The Monarch. This thing is simply awesome!
Monarch plugin is beautiful, very versatile,  highly effective and fully responsive, just like Divi. Check out this video to get a better idea:

Elegant Themes has other plugins but I haven't used them so I'd rather not talk about them. Monarch (and other ET) plugins also get updated with new features.
To be honest I would pay for Monarch if it came as a standalone plugin but hey, it's included in my Elegant Themes membership. I might even write a full Monarch plugin review when the time comes. This plugin has so many options and possibilities that it deserves its own blog post.
Conclusion of Divi Review
I discovered Elegant Themes in January 2012 so this is my 3rd year with them and I don't see myself moving to any other theme in the near future. Although I get access to 87 themes, I am totally sold on Divi and I think this theme alone is worth a lot more than $70 per year. That's without mentioning the access to technical support and an amazing plugin. These guys have over 260,000 customers and I am very proud to be one of them. You should be a part of this as well, I am sure you will enjoy the experience.
Once again. you can get a 20% discount on Elegant Themes Developer license here. Check it out, let me know how it goes! Similar theme clubs charge $200-$500 per year for themes that don't even come close to Divi, that's without mentioning the stellar Elegant Themes support!
p.s. When I joined Elegant Themes in 2012 I paid $39 per year. ET grandfathered me at this price so I still pay the same amount. Right now the price is increased to $69 so people joining in now will be locked at that price (or $70 for developer's plan if you use the link above). Elegant Themes team just announced they will be launching a new incredible plugin to help you with email opt-ins. At this pace I can only imagine the membership pricing going up again. Don't put this away for later because later might be a lot more expensive.
Got anything to add? Don't hesitate, use the comment box below!
– Alex
Disclaimer: some of the links on this page are affiliate links. This means that at NO extra cost to you I will earn a small commission if you decided to make a purchase through my links. I am transparent about my online business and I only promote services and products that I personally use and love to use. Besides, I am hooking you with a discount that's not available to general public.