If you've come across the Total Income Answer you've definitely wondered if it's a legit opportunity or just another scam. Before spending your hard earned money you've decided to do some research and you've stumbled upon this page. In this detailed Total Income Answer review I'll explain what TIA really is and why you should stay away from this program.
Total Income Answer Review
Total Income Answer is nothing new. These programs have been operating under different names for years. You might have seen them before under the names of financial health reset, home cash code, home job source and many others. Most of their other sites are now shut down. Total Income Answer is just a new name for the same old scam.
First let's begin with the obvious red flags.
Fake Credibility
Look at the conveniently placed logos of Fox, USA Today, CNN and others. These brands are easily recognizable and the owners of the total income answer are hoping to build instant credibility by using these brands. However, the text on top reads: Work From Home Opportunities Have Been Featured On…". It doesn't say that Total Income Answer was featured on any of these channels. It's because it wasn't.
Reputable news sources would never feature a scam such as this one. Yes, work at home opportunities have been featured on the news simply because more and more people are now able to work from home. I've been earning a living while working from home since 2007 thanks to this training. Many national companies are also now letting their employees to work from home rather than coming into the office. There are a lot of legit "work at home opportunities" but Total Income Answer isn't one of them.
False Scarcity
They're claiming that there is a limited number of spots open. They say that in order to rush you. There is no limited number of spots available. Refresh the page in a few hours or a few days or even a few weeks and you'll keep seeing the same claim. Don't fall for the false claim of "limited opportunity".
Fake people and Stock Images
Once you move on to the actual sales page you'll see the face of Karen Evans who owns the Total Income Answer. Here is the kicker though, Karen Evans is a made-up name and the photo is fake as well:
A quick Google search reveals hundreds of websites using the same image of "Karen". This is a stock photo that can be used by anyone. Look through any photos on TotalIncomeAnswer and you'll see that they are all stock photos of random people. Just like Karen, all of the "customers" who left amazing testimonials are all fake. The owners of this scam keep on lying to you.
Misleading Income Claims
Total Income Answer also claims this: If You Can Spare 60 Minutes A Day, We Can Offer You A Certified, Proven And Guaranteed Home Based Business Jobs To Make $379/Day From Home!
Nearly $400 per day for 1 hour of work? Well sign me up! Of course you know that if it sounds too good to be true, it is. You can earn a lot of money online and there are even free training programs that will teach you how to do it however you need to know that success takes effort and time. You won't become rich overnight and you won't become rich without actually doing anything.
If it was that easy we'd all be rich by now.
Total Income Answer And Elon Musk
You might have been invited to the total income answer system after seeing a "news" article from USA TODAY that looks like this:
This is not USA TODAY but a fake website that makes you believe it's real. The story is totally fake and they're using a photo of Elon Musk and Trump to make you believe that Total Income Answer is the answer to country's economic issues. Rest assured that Elon Musk would never endorse such scam.
You'll see at the very top of your browser that the url to this fake story is usatoday.commaxnews.com/…. this means that the real domain is commanews.com. This domain name was anonymously registered on February 15th 2017. Anyone could register a domain name for $11 and put up a fake news website pretending to be CNN on USA TODAY. Be careful when you see such sites, they are hoping to cheat you by using a fake looking website.
Total Income Answer – Mark Cuban
Some of the Extra Paycheck Blog readers sent me a different link where the same Total Income Answer uses Mark Cuban's name in order to push their scam. Once again, just like Elon Musk, Mark Cuban has never heard of this scam and he certainly does not recommend or endorse it. The "FORBES" website you see in the screenshot below is fake as well: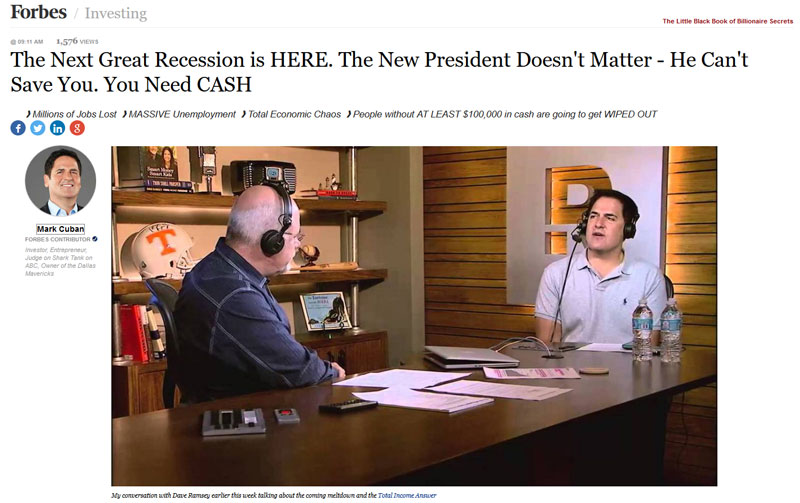 Is Total Income Answer A Scam?
But what exactly is that Total income Answer is trying to sell you for $97?
The program claims that they will teach you how to place links that will earn you money. Upon further research I realized that they will tell you to become an affiliate and promote different CPA offers. An affiliate is someone who makes a commission by promoting other people's products. I actually released a video explaining what exactly affiliate marketing is and how it works. You can watch this video for free on Youtube.
Affiliate marketing is a great income model but believe me it is not as easy as posting some links. In fact posting links will bring you NOTHING. You won't earn a single penny by simply posting links. You will need to build a website, write content and get traffic to that content. I have free training on all of that.
And if you are interested in CPA marketing, I actually released a very popular guide on CPA some years ago. And guess what, that guide is also completely free. To be honest with you I no longer do CPA as it's not profitable enough in my opinion.
So there you go. Total Income Answer will charge you $97 to simply tell you to sign up to free affiliate programs and post your links online, hoping someone will buy whatever product you're promoting. I just saved you $97.
Total Income Answer Conclusion
Total Income Answer is definitely a waste of your money. You can make a lot of money online if you have proper training and guidance. I have been making a full time income online since the end of 2007 so almost 10 years now. If I learned one thing it's that success requires effort and time. I've met lots of people earning 6 and even 7 figures per month with their online business and many of them shared the same secret: everything is possible with hard work.
When I first started I was a complete newbie to all of that. I did get scammed a few times but eventually came across a training platform where I learned how to start a real profitable online business. 9 years later I am still an active member of the community. Although when I first joined in 2007 I had to pay to join them, you can now do it completely free. No credit card required.
Do you have any comments or questions? Please do use the comment form below 😉
Alex