EZ salaryZ by Mosh Bari and Jason Fulton claims to be a brand new, groundbreaking software that will allow you to create a passive recurring income system. All it takes is 5 clicks and 30 seconds. What exactly is it and should you go for it?
In this post I will address several aspects of this "software" and do a full EZsalaryZ review so you could make an informed decision.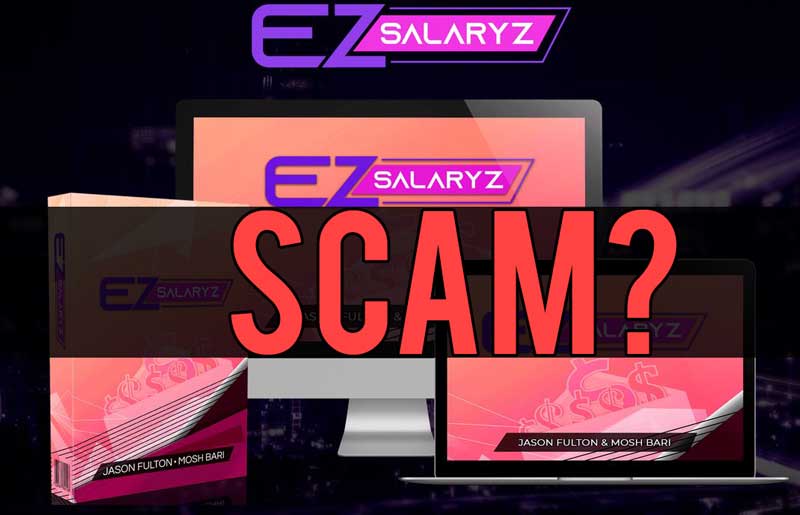 EZ salaryZ Red Flags
If you've been following this blog you might already know that I've been active in the "internet Marketing" space since 2007. When I first started learning about online income, marketing, blogging I purchased quite a few different courses, software and programs. Unfortunately many of them were scams. On this very blog I've torn apart several scams that eventually shut down (while stealing a bunch of money from their customers). Some even got shut down by serious agencies like FTC and police.
In the past 13 years I've learned how to easily spot red flags and EZ salaryZ has several. Shall we?
Let's look at the very first sentence on their sales page: "You're Just 60 Seconds Away From Generating A Salary Every Month Without Working Every Day.". It sure sounds intriguing, right? You know why you've never heard of anything like it? It's because it's simply impossible. If it was possible to replace your salary, without working, within 60 seconds – you would have already done this. Sure, most folks can start earning extra money online and eventually replace their salary but it won't be "without working" and it will most definitely take more than 60 seconds. I know this because I have done it many years ago and I've helped hundreds of people do the same.
This is the first and only red flag you need – anyone promising instant rewards without any effort is flat out lying. If this isn't enough to keep you away from this "software", keep reading.
What exactly is EZ SalaryZ Software?
Here is the claim directly from their website:
EZ SalaryZ is a breakthrough technology that actually works on 3 levels to make you profits. First, it helps you make passive affiliate commissions. Secondly, it actively creates high converting traffic campaigns AS you're making these commissions. And third, it uses 100% free viral traffic to get viewers to your offers.
Here is another claim:
Create a Recurring Income Membership Site. If you've been around in the IM space for a while and purchased a few products, you would have received many whitelabel and reseller bonuses from other vendors.
These are two completely different models so let's try to understand what's going on here.
First the EZsalaryZ claims it's a technology that allows you to make money through affiliate commissions. This isn't really a breakthrough. Affiliate marketing is a viable model and can be very profitable. Affiliate marketing is basically when you promote other people's products and receive a commission if a sale takes place. Amazon does, Walmart does it, your favorite airline company probably does it as well. There is no software that will set this up for you. If this business model interests you, here you can learn more about affiliate marketing.
In the second statement EZ Salaryz claims their software will help you create a membership site. Once again, nothing new or groundbreaking here. This models has been around for the past 20 years (if not more). Running a membership site can also be very profitable – if you provide quality content to your members. Of course, don't forget that you need to find these members and persuade them to actually pay for your membership site.
EZsalayz claims that you do NOT need to create any high quality content. All you need to do is purchased some old, low quality info products with resale right. You can find tons of those online for a few bucks. But here is the issue. Thousands of people have been trying to push that crap unsuccessfully, for years. Even if you manage to lure in a few naive folks into such membership site – they will ask for a refund once they see the quality of your products and some might do a credit card charge-back which will hurt you.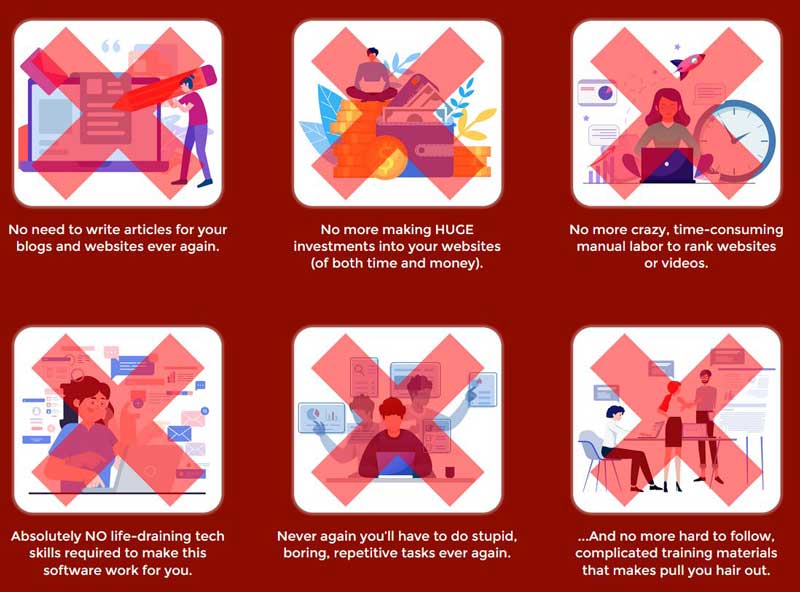 Here is the bottom line. You can make money with affiliate marketing. You can make money with running a membership site – in both cases you will need to start with creating content. And in 2020 people want high quality content.
EZsalaryZ Traffic Claims
Here comes the most important part about creating an income online: you need customers. No matter how great your offer is – no one will run to you and buy your stuff. Even if people wanted to, how would they find you?
EZ salaryz claim that their software will bring you "free viral traffic", "free social media traffic", "free SEO traffic" and so on. This claim might have even been true before 2010 where many unethical marketers tricked search algorithms (such as Google) to rank their websites. These loopholes have been shut down for good. If you need traffic you need to either pay for it or work for it. Google's main goal is to serve the most relevant results to people's searches and their system works great.
"Free viral traffic" is an awesome buzzword but have you ever tried to make any piece of content go "viral"? Multi-million dollar marketing agencies spend loads of money on creating amazing videos, incredible blog posts and more. Very very rarely any of that goes viral. I hope you don't believe that some cheap "software" will be able to do so for you.
"Free social media traffic" – another buzzword. You probably have an Instagram account and even a Facebook page and whenever you post your personal things, a handful of your friends actually react to it and engage with that content. Imagine a software such as EZ salarys setting up a Facebook page and posting low quality, scam feeling information in there. No one will click like or even pay attention to it, let alone purchasing anything. Just think of the last time you followed an unknown page on Facebook, liked a post on that page and bought something from them. You don't remember? That's because it didn't happen. Since you aren't doing it – no one else will.
Getting free, targeted traffic online is very possible. Proof? You ended up on my blog, reading this very article, after doing a Google search. I didn't pay for this to happen, I didn't use any "software" to make this happen. I simply created content that search engines deemed of high enough quality and they served this content to you.
More reasons to stay way from EZ salaryZ
Their sales page gave me a few good laughs. I really enjoyed their example of how you can set up a membership site and sell the $1/month subscription to 5,000 people hence earning you $5,000. Let's do some quick math.
In online space 2.5% conversion rate is considered average for ecommerce (aka buying physical products). This means that out of 100 people who come to your offer – 2.5 will make a purchase. Now remember, we need to consider that these visitors are actually interested in your offer. Following this math, you will need to get 400,000 very highly targeted people to your offer in order to make 5,000 sales. You read that right, you will need almost half a million visitors to make 5,000 sales. Is it doable? Yes. Is there a software that will do it for you? No.
False scarcity, upsells and inconsistent pricing should always be a concern when you're making a purchasing decision. EZsalaryZ says it costs $27 USD. However when I went for the actual purchase the price shown was $22.60. However that's not the only issue with pricing. If you actually do make a purchase, you will be bombarded with upsells and downsells that you "must have" in order to "actually make money". First they will try to sell you the "Unlimited Profitz Edition" a membership that costs $97 per year or $27 a month. Then done-for-you money sites for a cool $297. Then – Super Traffic Machine at $67. Then 100x Conversion Booster for $77.Also, License Rights for $97. That's over $550 and another 97$ yearly fee… all this after they promise that their $27 EZ SalaryS Software is ALL you need to replace your salary.
The fake counter is also a cute touch. They try to scare you into believing this is a very limited time offer and it will expire in less than 6 hours. However, if you simply refresh the page – the counter resets to 6:00:00. This alone is so fake, misleading and unethical – it should keep you away from this "groundbreaking software".
Some weeks ago the same guys launched a VERY similar software called OMG Profitz. You can read the full OMG Profitz review. As you can see they're just pumping out very similar b.s. to make the most money they can before shutting it all down. TraffixZ review might interest you as well.
If you have read the full article and STILL decided to buy into it – please do come back and post a comment here about how you got scammed. I get quite a few of those on this website.
Can You Actually Make Money Online?
The short answer is yes. I have been making a living online for the past 13 years. Since I follow the industry closely I do try different business strategies with different levels of success. I have sold my own products on Amazon (this led to my brand being sold through Urban Outfitters), I have tried an online t-shirt business, I've done Adsense, freelancing and a lot more. Affiliate Marketing has been (and still is) my most profitable and only consistent line of income. If that interest you, you can check out my free course, no credit card required.
Latest article: 12 Legit Work-at-Home Jobs in 2020