OMG Profitz by Mosh Bari and Jason Fulton claims to be a brand new controversial software that will allow you to create passive income profits without doing any work. The creators of this "builder" promise that within 60 seconds and just a few clicks you will own a very profitable online business. Sounds too good to be true, doesn't it?
Review of OMG Profitz – eCom Affiliate Business
First of all let's pay attention to the claims on the sales page. I've been making full time income online since 2007. I am an active member of the marketing and ecommerce community on and offline. Over the years I've interviewed some of the world's most success online entrepreneurs on my podcast. Unfortunately there is a dark side to online business; false claims, fake promises and scams. Fortunately most such programs and products are easy to spot, if you pay attention.
Making money online is possible. I personally know hundreds of people who are successful online and you know the one trait that's common for all of these people? Hard work. Ask anyone who actually makes money online and they will tell you there is no shortcut to riches. There are no magic systems or software that will make you money overnight, without you having to put in the work. This also leads me to another point: if you want to make money right now, without doing any work, close this website immediately because my advise is not the right fit for you.
Most online scams I have seen online are very vague and don't really explain what they offer and how they will make you rich. OMG Profitz took a different approach. They claim that their system will build an ecomm (e-commerce) store for you,  populate it with products, bring loads of traffic and sales. Sure, it sounds good but there are many flaws with such promises and I'll go into the details within this review.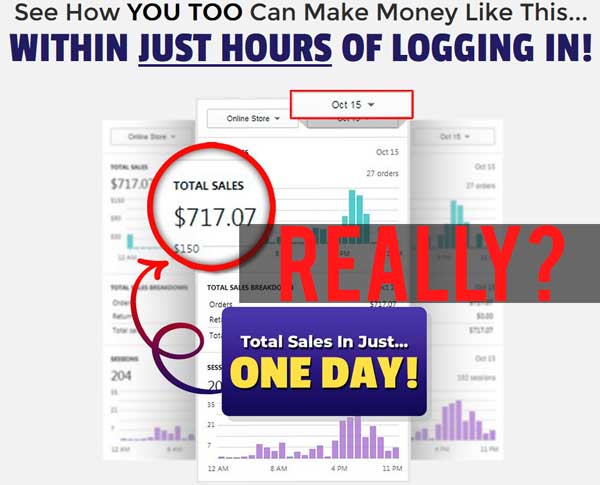 Fake claims are really the only red flag you need to stay away from this. Making over $700 "within just hours of logging it" ? ?
If it was this simple we would all be rich. If it was THIS easy, the owners of this software wouldn't be selling it to you for $27, they would be busy building more of their own stores that make $700 per day within just hours of logging in, as they claim.
What is OMG Profitz ?
The sales page explains that OMGProfitz is a full system that sets up an ecommerce store for you, populates it with thousands of products and bring you tons of free traffic which supposedly results in sales. If we dig deeper into the sales page we understand that these guys are promising to help you create a dropshipping business of sorts. This means that you will be selling products that you do not own (which is a viable model). Their system will pull product listings from Aliexpress website and list them on your website with a mark-up. Now, if you actually get a customer who makes a purchase on your website – the system will place an order on Aliexpress and ship the product directly to customer.I haven't actually TRIED the software for this so I can't know if the software part of it works but I already see some big flaws.
Let's put ourselves in the shoes of our potential customers.
First of all, when was the last time you purchased an item from an unknown ecommerce store? Probably never. So even if they build an ecommerce store for you – you would need to market it hard. If people have  never heard of your store – they simply won't trust your website. How do they know you simply won't take their money and NOT ship the product?
Second. If you have ever purchased anything from Aliexpress you know that their items take from 30 to 60 days to arrive. Last purchase I made on Aliexpress took 80 days to reach me. Needless to say I asked for a refund after 60 days of waiting (Aliexpress' guarantee). So, even if a customer finds your website, trusts it enough to place an order – chances are they will cancel the order and ask for refund if they don't receive it with a few days or weeks. This is the main reason most people buy from Amazon and other popular sites – because the shipping is fast. People who are willing to wait 2 months for delivery will not pay YOUR higher price, they already know about Aliexpress and will order directly from them.
Let's look into another problem with OMG Profits: the traffic.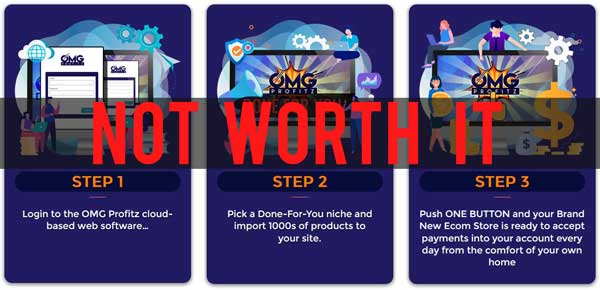 OMG Profitz Traffic
If you want to make money online you need targeted traffic. This means that you need to find potential customers who are actually interested in your offer. This is by far, the hardest part of making money online. You can order products from China and try to sell them on your website or Amazon. You can create online courses and try to sell them. You can create a Youtube channel or a blog and try to earn money with ads but if no one is coming to your website – you won't earn a penny.
Here is their claim from OMG Profits:
TURN ON the Viral Traffic Module and you can turn every visitor into 5 visitors and start getting Free Traffic from DAY ONE with this software.
What does that even mean? "Turning every visitor into 5 visitors" means that they are running some kind of automated system that serves ads to people. When you view someone else's ad, you earn points. You can then exchange those points so other people can look at your ad. This scheme was very popular 10+ years ago but it failed rather quickly. It failed because everyone involved in it just tried to get the most people to their site – however these visits were meaningless because no one was there to purchase anything. This kind of traffic is completely useless and will not result in a single sale.
As I mentioned before, you need TARGETED traffic. I would rather get 100 visitors who are interested in my product over 1,000,000 visitors who are not interested. Remember that the conversion rate on popular ecommerce websites is about 2.5%. This means that out of 1,000 highly targeted visitors only 25 will convert into customers.
You need targeted traffic and there are 2 pays of getting it. You can run ads on Google, Facebook, Youtube, etc – it costs a lot of money and requires a pretty steep learning curve and testing. Free (organic) traffic is what I prefer but this method requires a lot of work. You need to consistently create high quality content that Google and other search engines see as useful to the users. In either case, "Unlimited FREE Traffic" and "Free Viral Traffic" promised by OMG Profitz is useless and will not earn you a single penny.
More reasons to stay way from OMG Profitz
I've mentioned some red flags already but there are others. The false scarcity is a very old marketing technique that is NOT used by any reputable business.
I am talking about the fake counter on the page. The one that says only 4 hours and 51 minutes left and then the price will go up. If you refresh the website, the counter goes back to 6 hours. The counter is there to deceive you and urge you into making a purchase. Would you really give your money to someone who's blatantly lying to your face? I know I wouldn't.
OMG Profitz isn't the only product by Mosh Bari and Jason Fulton. They recently launched other products and I have written the TraffixZ review, TrazeAll Review and EZ SalaryZ Review. It seems almost identical. Same sales page, same fake claims. They keep pumping these puppies trying to appeal to every single aspect of online marketing. Unfortunately all of it very similar low quality stuff.
The endless upsells. OMG Profitz promises that you will spend $27 and they will give you all you need to make a bunch of money. However, as soon as you pay the $27 you will be bombarded by a bunch of other products that apparently you "MUST HAVE" if you "Really Want To Make Money". They will try very hard to sell you OMG Profitz Unlimted edition for $97, OMG Profitz DFY Money Machines $297, OMG Profitz 100x Conversion Booster $77, OMG Profitz Super Traffic Machine $67, OMG Profitz License Rights $167 and more.
Can You Make Money Online?
Certainly. There are many legit ways to earn some extra money online or even make a full time income. I've tried several business models over the years, most of them were completely free to start, some required a very small investment (less than $100). If you want to start an ecommerce store – there are loads of great solutions like Shopify, WooCommerce and others. WooCommerce can be used completely free. My most favorite online business model has always been Affiliate Marketing. In just a few words – you promote products from platforms like Amazon and Walmart and earn a commission per sale. Affiliate programs are completely free to join.
If you're interested to learn more, you can check out my free course. Put your wallet away, this is actually completely free. However, you must remember that building a profitable business online requires work and success does not happen overnight. If you are willing to put in the effort then I can help you. If you want instant results without putting in the work – this is NOT for you.