RewardDollars claims to be The #1 Social Media Network that will allow you to earn $500-$1000 per day by simply posting links to your social media accounts (such as Facebook). Is RewardDollars legit? How does it work and what exactly is it? Let's look inside this "social network".
I've Been Making Full Time Income Online Since 2007.
RewardDollars or InboxDollars ?
Before I start this RewardDollars review I would like to clear a few things up. I was initially approached by one of my blog readers to look into Inbox Dollars (InboxDollar.co) on suspicion of scam. Please take note that InboxDollar.co and InboxDollars.com are 2 completely separate companies. I was asked to review the .CO website and not the .com.
As I searched InboxDollars on Google I found the website ranking as the 2nd result. However, one click showed me that the website is now called RewardDollars. The InboxDollar.co domain name still exists but it now redirect you to a brand new site located at RewardDollars.co. Interesting, isn't it?
As I tried to find more information about the InboxDollar.co I realized that this website managed to gain quite a negative reputation in just a few months. People complaining that it was a scam and that it doesn't pay. This is starting to make sense. Since InboxDollars lost it's reputation they simply rebranded by creating a new (fake?) company.
Here is the registration information for InboxDollar:
As you can see the domain name was registered on January 1st 2020. At the moment of writing this blog post we are March 31st, exactly 3 months later.
And here is the registration information for the brand new RewardDollars:
The domain name was registered yesterday, March 30, 2020. The website is 1 day old. We'll get back to this information later.
Looking for LEGIT Work From Home opportunity?
Here are

12 Online Jobs

that actually pay in 2020!
Reward Dollars Review
So what exactly is the RewardDollars? It certainly isn't the "The #1 Social Media Network" as they promise. The website promises to help you make up to a $1,000 per day using social media. It sounds intriguing, doesn't? The membership is free and they even offer you $25 bonus just for signing up, how cool is that?
They also promise to pay you $2 every time someone clicks on your referral link and $20 every time someone signs up to the site using your link. $50 to fill out a simple survey and $50 for installing apps on your phone. The list goes on, you can earn thousands of dollars by simply clicking a few things. Sounds too good to be true? It's because it is.
In order to offer you a very detailed review I actually signed up to RewardDollars in order to understand how it works.
One of the things that I noticed immediately was their promotional banners that you "should" be posting on your Instagram, Twitter, Facebook, etc. Here is a screenshot:
In the top left corner you see that we are on the RewardDollars website. Yet the promotional banners claim it's InboxDollars. But at this point we know that Inbox Dollars simply disappeared and stopped existing probably just a few days ago (if not today). Whoever runs these scheme simply copied the content from the old website into the new one and forgot to create new banners.
RewardDollars Tasks
Let's look at the $50 Task Wall. It's a list of tasks that promise to pay you $50 for completion.
Watch your favorite movies for free! Open a free account, start streaming and earn $50! Yes please! That sounds very rewarding and easy, let's try it, shall we?
Here is the result:
My antivirus software didn't allow me to open that offer because the site seems to be infected. Thank you antivirus! But I won't give up that fast, I want my easy money.
Let's try another offer.
Stream the best movies now, sign up free and earn $50. Wow, that's sounds amazing! Similar to the first offer but still… This one seems to work and I am taken to this page: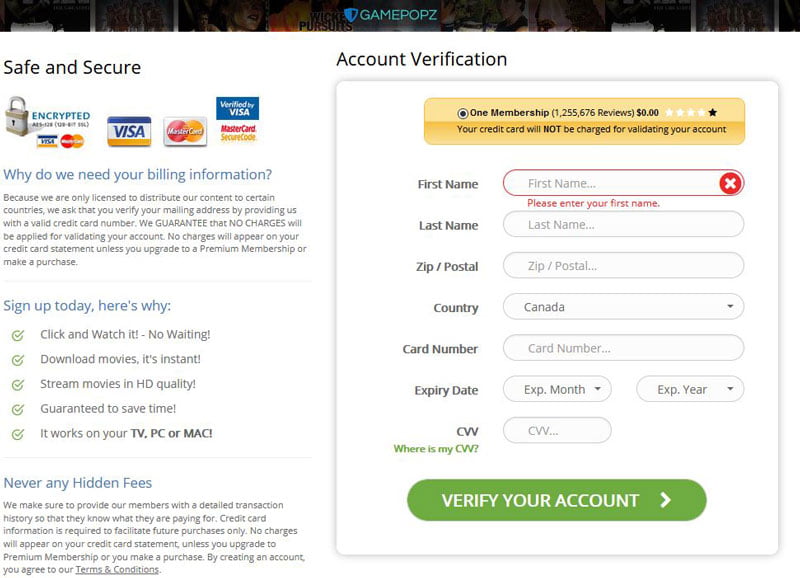 Gamepopz? Not quite sure if it's a game website or movie website, but let's look around. The website is asking me to VERIFY my account by giving them my credit card information. Sure it's a red flag but it says that my credit card will NOT be charged for validating the account. Right? On the left side it says that NO charges will appear on your credit card statement unless you upgrade to Premium membership or make a purchase. That also makes sense but I am still skeptical (as everyone should be).
This is getting interesting
If you click on Terms and Conditions, things will become a little more clear. Not completely though. By verifying your account you agree to a 5 day free trial of the website after which you will automatically be charged $49.95 USD every single month. How do you cancel the free trial? It is absolutely unclear. There also might or might not be a $1.08 charge for cancelling your account. I said "might be" because the wording on their terms is very confusing.
The point is, once you enter your credit card details into that website – be ready to get charged for services you do not want. This kind of practice is illegal in the United States and several other countries, however the website is registered in Cyprus. Good luck trying to sue a company that's registered there.
I did not need to click on any other offers because I understood how RewardDollars works.
RewardDollars Income Model
RewardDollars does now own any of those offer websites (most likely). However they are using CPA marketing to make money off of you. CPA in this case stands for Cost Per Action. The owners of GamePopz (and other offers on the website) pay a certain amount for every new customer. I am not sure how much exactly in this case but I would assume anywhere between $10 and $30.
So every time a new customer (you, for example) signs up for the "free" gamepopz account, RewardDollars website earns $10-$30. The money is the "Cost" and you submitting your credit card details is the "Action", hence, Cost-per-action. Some companies in this industry not only sign you up for recurring monthly payment without you knowing, they also sell your personal information to other companies and scammers.
RewardDollars Contact Information
The domain names for both RewardDollars.co and InboxDollar.co are registered privately, which is common practice these days. However, this means we can't really know who runs these sites since there is no ABOUT information on the actual website. There is a contact e-mail listed on the website ( contact@rewarddollars.co ) however I did not get a reply from them. Last but not least, their website states their address as: 20 Rollins Road Cotesfield, NE 68829.
A quick Google Maps search will show you that the tiny town of Cotesfield does exist in Nebraska. However this town only has 9 roads and Rollins Road is not one of them, so the address is fake.
RewardDollars Scam Exposed
Now, what happens if you didn't actually sign up to anything on RewardDollars website. They promised you $25 bonus but you can't cash it out unless you earned $100. So they encourage you to do tasks or share your referral link on social media so your friends could sign up as well. First of all, do you really want your friends to fall for this scheme? I certainly wouldn't. However, let's say you somehow managed to get over the minimum payout threshold ($100 at this moment), what happens next?
Well, nothing.
They simply will not pay you.
I posted this EZ Bucks Review on the blog. Does it seem familiar? That's because it's owned by the same people (person). It looks almost identical to RewardDollars and now non-existing InboxDollar. Just look at the testimonials from each site:
These people do not exist. The reviews are fake and the photos come from a Free Stock Photo website. However, these testimonials are identical on both site. The claims for Reward Dollars make me laugh because "Jaysen" earned over $67,000 on a website that's barely 1 day old. Do you see how ridiculous this is?
Future of RewardDollars
Reward Dollars will be promoted for a couple of months until there are enough complaints online. At that point they will come with a new name, set up a new site and keep the scheme going. Unfortunately these kind of scams are very hard to stop. If you have shared your personal details with any of the companies mentioned in this post, I wish you good luck. Look closely into your bank statement and make sure you don't have phony charges.
Making Money Online
Latest post: 12 Legit Work at Home opportunities in 2020!
There are legit websites that will pay you for completing simple tasks, like watching some video ads, filling out surveys, doing web searched and so on. Swagbucks is one of them and has been around since 2008. However, you'll be able to earn very little money from them since there is a very limited amount of tasks and offers. I prefer spending my time elsewhere.
Earning extra money or even a full income online is possible. I've been doing exactly that since 2007. I have interviewed over a hundred successful entrepreneurs who started successful online businesses as well, some went on to make hundreds of millions of dollars. You can check out these interviews on my podcast.
If there was one thing that I learned in the past 13 years, it's that there is no easy money and there is no shortcut to riches. I've manufactured my own products and sold them on Amazon (investment of only a few $100). I've created successful niche websites and sold them for profit (I am not a web designer, copy writer, marketer). I make most of my money through affiliate marketing, my favorite model because it does not require any investment to start. If I could do it so can you. However you need to understand that you will have to put in the effort and invest time in it. Possibilities are limitless but you'll have to work to see the results.