Is Auto Home Profits a scam or a real opportunity to make money from home? In this auto home profits review I'll go in details and explain what this program is and how exactly it works. Spoiler alert: stay away from it.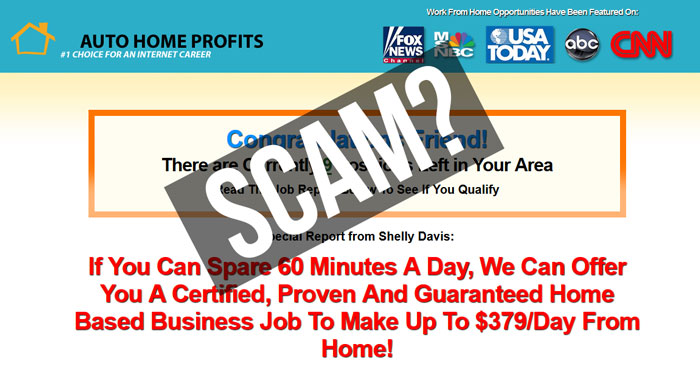 Auto Home Profits Review
AutoHomeProfits.com website was registered on November 22nd 2016. A lady by the name of Shelly Davis claims to be the owner of this program although it's false. (I'll explain that later).
Auto Home Profits is pretty much a copy/paste of several other online scams. There is home cash code, home job source, total income answer which I reviewed recently and many others. Most of the previous websites are now shot down for a reason. The Auto Home Profits System is just a new name for the same old scam. These folks launch a new website, make money off of unsuspecting customers, earn a very bad reputation online. At this point they simply "re-brand" the same scheme buy putting a new name to it. Let's look at in more details.
Auto Home Profits Red Flags
You have certainly noticed this warning that only 9 spots are left in your area. AutoHomeProfits.com launched 4 months ago and they had that warning since day 1. There is always only 9 spots left, this is the first lie. In online marketing it's called the false scarcity technique and it's very shady. The owners of this program are trying to play on your emotions. They don't want you to think and rationalize, they want you to feel like you might miss out so you hurry and place an order with them. Refresh their page tomorrow or in a month, you'll always see the same message of "only 9 positions left".
Fabricated Credibility
Have you seen this urgent update? They claim that this (auto home profits system) work at home opportunity has received a lot of national media attention. This is nothing but a blatant lie. You can spend hours and even days trying to find a single official news source that endorses this program and you will not succeed. Sure, national media might talk about "working from home" as it is a real thing. However I can assure you they will never endorse a scam such as this one.
If you scroll up the page you'll see the logos of Fox News, USA Today, CNN and others. These logos are supposed to make you believe that this "opportunity" is real. But you're smarter than that. You understand that any scammer can simply slap some reputable logos on their website in order to create fake credibility.
Fake images, fake names.
Let's start with the supposed creator of Auto Home Profits – Shelly Davis. One one page she claims to have a 6 year old daughter and we see this image:
on another page of the same site we learn about Shelly Davis that has 2 daughters. The picture is completely different though:
So which one is it? These guys are so bad that they can't keep a consistent lie.
A quick google search reveals that this woman is not Shelly Davis at all. In fact the name is made up and the photo is taken from a "stock photo" library online:
By the way, this screenshot comes from my other review of "Total Income Answer". It's the same image although her name is Karen Evans instead of Shelly Davis.You can look up the images of their "satisfied customers" and you'll realize that those are also stock photos and made up names. You can put your finger anywhere on that site and you'll realize that everything about it is one big lie. These proofs alone should make you realize that the auto home profits is a scam and nothing else.
Auto Home Profits Scam
So what exactly is the auto home profits? On some pages they might ask you for $97. Other pages will tell you it's $47. If you try to close that page they'll offer you a $20 discount. They don't care how much money they can get for you as long as they can get something.
Auto Home Profits systems claims to offer you a system that will earn you money by simply posting links. I dug deeper and realized their system will tell you to become an affiliate for different CPA networks. Affiliate marketing is a real thing and you should check out this free video on Youtube to learn more about how it works. In fact I have been earning a living with affiliate marketing for the past 10 years. However, there is no "easy automated system" that makes money. Posting your links all over the internet will not earn you a single penny. If anything, you will waste your time.
You'll need to build a website, create content, get traffic and only then you'll start making money. Becoming an affiliate marketer means building an online business. It isn't as scary as it sounds. I have free training on all of that, so put your credit card away. Auto Home Profits plays on your emotions and they try to make money out of you by promising fast and easy results. Auto home profits report – it is a scam and you should stay away from it.
Making Money Online
As I previously mentioned you can make money from home. There are many different models such as affiliate marketing, drop-shipping, Amazon FBA and much more. Thousands if not millions are people are making a living online. However, you must know that you'll need to invest your time and effort in order to see results. Success does not happen overnight.
When I first started I was a complete newbie to all of that. I did get scammed a few times but eventually came across a training platform where I learned how to start a real profitable online business. 9 years later I am still an active member of the community. Although when I first joined in 2007 I had to pay to join them, you can now do it completely free. No credit card required.
Do you have any comments or questions? Please do use the comment form below
Alex