Since I interact with a lot of beginners in the online marketing space I constantly come across people wondering how long their content should really be. Sadly many people obsess with this question for weeks instead of just producing content. However I am happy that people actually ask this question because it's a good one.
How Long Should Be Your Blog Posts and Articles?
In this post I will try to answer this question to the best of my abilities, knowledge and experience. The bad news is that I must give you the most popular and the most dreaded answer: it really depends. There are many factors that come into play when you produce a piece of content. Is your audience more visual? Does your audience like to learn? Does your audience prefer text, audio or video? Does your audience prefer casual, easy to read content? Who is your audience? There are many other questions that should be asked before you even start writing. These answers will influence the final decision on the length of your content.
The good news is that I will share my own opinion and real results. In short, I think that your content should be long(ish). I am sorry if you're reading this and you hate writing. Maybe you shouldn't be creating content if you hate it so much? I used to hate writing and it came to me at great difficulty but practice creates perfection. Now I enjoy writing which makes the whole blogging aspect a million times easier.
Let's get to it.
The 7 Minute Average Read Time
If you haven't lived under a rock for the past few years than you have certainly heard of Medium. Medium is a blog-publishing platform where content plays the biggest role. There are no sidebars or any other distractions, just pure (and usually high quality) content. What always amazed me about articles on Medium was the length. Since there are no ads you know that most people publish content out of pleasure of publishing great content. At least the people who I follow on Medium do that.
We're often told that people don't read online, they just scan through headlines and images of your posts and articles. This is simply untrue and misleading. The Medium team dug deep into their own data and they found that the average reading time is 7 minutes. In 7 minutes we can read about 1,500 words. This doesn't mean that you should aim for exactly 1,500 words but this should make you understand that if you write great content people will spend time reading it. Tattoo it on your forehead: the quality of the content is the most important aspect of it.
Top 10 Google Rankings Are of 2,000+ Words
This statement isn't 100% accurate for every single keyword out there. For most of us, online marketers, bloggers and content producers search engine rankings are very important. Some of us built whole businesses based on good search engine rankings. It isn't smart to put all your eggs in one basket but if you haven't been naughty with Google than your content survived all the Penguins, Pandas and other updates with weird names.
SERPIQ analyzed loads of search engine results and they were able to see the direct correlation between SERPs position and the length of content:
Each of the top 10 results has at least 2,000 words. The top 3 results have an average of 2,500 words. How is that for proof that longer content is better?
Don't get hung up on that either, the number might be smaller of bigger for your industry. However, for the next blog post that you will write, first google search your main keyword phrase and look through the top ranking sites. How many words do they have? I know that it isn't just about the length of your blog post and there are hundreds of other ranking factors in the SEO world but the length surely is important.
Longer Content Gets More Social Shares
I am not sure if people sharing these articles want to seem like they read a lot or if they truly see the value in that content, however the fact still remains. Longer content gets more shares on social media. I'll give my personal examples in a few minutes but let's look at some popular websites and what they've been able to figure out.
Neil Patel from QuickSprout experienced this with his content:
OkDork and BuzzSumo report very similar results: Longer content equals more social shares:
I've published quite a few blog posts here on Extra Paycheck over the years but there are only a handful of articles that got many shares on social media.
How to get the top google business listing for free
This post received a total of 124 shares across different social media platforms. Total word count: 3320
This post has received a total of 52 shares and it's over 7,000 words long (pretty much a mini-novel)
30 Books every entrepreneur must read in 2016
This post has received a total of 919 (!!!) shares across platforms and it's over 4,000 words long
As you can see that longest isn't always the best, but these 3 articles outperformed all my other articles which are closer to 1,000 words or less. Also I must admit that I spent at least 3 days promoting the "30 books" post. I will do a whole post on this specific experiment later on.
Remember that it isn't just about the number of shares on Facebook and Twitter. People tend to link to great content and as we all know no one has cancelled the importance of backlinks. Backlinks are still very important for your search engine rankings.
I've got quite a few juicy backlinks from authority websites to the blog posts that I mentioned above.
Make Use of Latent Semantic Indexing
Latent Semantic Indexing or LSI keywords are basically keywords that are related to your targeted keywords. If you write a blog post just like this one, you can only stick the keyword phrase "How Long Should Your Blog Posts Be" that many times without keyword spamming or simply annoying your readers. However when you are writing a longer article you can easily and successfully make use of LSIs. The article would read better and ultimately it would perform better in the search engine rankings. You have probably noticed LSIs in this very article such as "how long should your articles be", "length of content" etc.
To demonstrate this better I did a quick Google search and took a screenshot: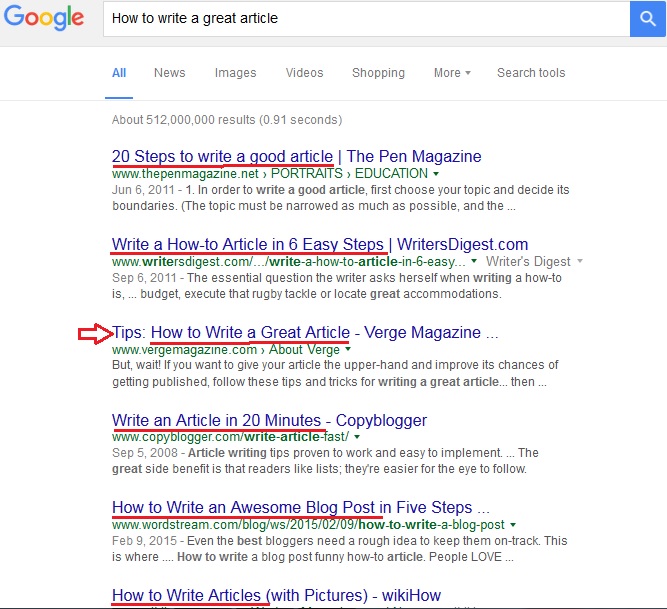 The keyword phrase used: How to Write a Great Article. Now look at the keyword in the top results: write a good article, write a how to article, write an article in 20 minutes, how to write an awesome blog post… and only the result #3 has the exact keyword phrase I searhed for. I am sure you have already seen this behavior when searching for your own website rankings.
Google is very good at understanding what exactly we're searching for. This is why google often serves results with better content rather than exact keyword phrases. I keep talking about Google because they are the biggest search engine but other websites are doing similar things.
Another reason for using LSIs is that your article would rank for many different keywords instead of that one magic phrase that you are targeting. Sometimes when I check my traffic stats I get very surprised by the keyword phrases people used to find my content but in the end that's the ultimate goal: getting more targeted traffic. Once again, make sure to use LSI keywords.
Conclusion
Just as I mentioned in the beginning of this article, not all content is created equal. In certain situations you really can't (and probably should not) create long content just for the sake of it. You can write 3,000 words talking about the weather today but should you do it?
Remember that you aren't writing your blog posts or articles for the search engines but rather for your readers. When your audience engages with your content Google sees it as a good signal that your content is great, thorough and interesting and they will rank it better. Your readers will be more compelled to share longer content with others because it is informative and well written.
Last but not least, when you start writing that blog post make sure you leave no stone unturned. Get in the head of your reader and try to answer every single question they might have on the subject. You can even come back to it later and edit the article to add more useful information. Your readers will be happy with the provided value, Google will be happy with lower bounce rate, better engagement and LSI keywords, you will be happy with the traffic, you will see more shares and better rankings.
I know that it's hard to write super long content and I also have difficulty with it from time to time however if you write a thorough post it should easily get to 1,000 words or more. By the way, my personal standard is at least of 1,000 words for the Extra Paycheck Blog. This particular article is over 1,500 words.
If you do have any comments or question, please do use the comment form below!
– Alex