DFY Profitz (Done-For-You Profits) is being marketed as "Brand New Software That Instantly Creates Profit Pulling Affiliate Campaigns in Just 60 Seconds With Automated FREE Traffic For Commissions!" by Mosh Bari and Jason Fulton. They promise that you will be rolling in "automated income" after 60 seconds of paying for their software. Does it really work or is it a scam?
Looking for Legitimate Work From Home?
Check Out These 12 Online Jobs That Pay in 2020
DFY Profitz Review
It always make me laugh when people use a Z instead of S (DFY Profitz instead of DFY Profits). This, however has been true for similar products since at least 2007, when I started learning about online marketing. 2007 is also the time when I started earning enough money through affiliate marketing to allow me to quit my job for good. I've been making a full time income since then and I am rather active in the industry and the community of online marketing and online business in general. If I learned one thing throughout the year – it's that there is no shortcut to riches. There are no "done-for-you" profitable system. A claim that you will start earning money by simply clicking a few buttons has always been false. Whenever someone promises to make you rich overnight – take it as a red flag and run away.
I've started my "online marketing career" by joining this community and although I was excited about it, I was even more excited about making a quick buck. So I spent quite a bit of money purchasing "new software" and "magic systems", hoping to get rich quick. After a while it finally hit me – there are no shortcuts. You can earn a lot of money from the comfort of your home but you will have to learn and put in the work. Online is not much different from offline; you can either get online jobs that pay you per hour/project or you can start your own online business. In both cases you'll need to invest time and effort. You can start a blog, a Youtube channel, an eCommerce store, a print-on-demand t-shirt company, Amazon FBA business, a software – in the end you will have to put in the work.
DFY Profitz targets people that have exactly the same mindset as I did in 2007, when I didn't know better. They promise to sell you a software for only 24$ and this software will start making money for you in 60 seconds. They are using buzzwords such as DFY System, Super Affiliate Campaigns, Plug & Play Profitz, Free Viral Traffic, 100% cloud based software. You may or may not be familiar with these terms but it sounds promising, doesn't it?
What Is DFY Profitz
DFY Profitz sells you access to a "software" that will actually build a site for you. More like a sales page. They use WordPress platform and give you pre-made layouts that helps you create a page that looks very similar to the sales page of DFY profits. I mean DFY ProfitZZZZZ.
The layouts can integrate some autoresponders such as Aweber and Mailchimp, so you could build your e-mail list. Such layouts are called Opt-In pages in the industry. Then they let you create a "Thank You" page for your new email subscribers. On this thank you page you will offer a "discount" for a product that you are promoting as an affiliate. They also allow you to create a "contest" where you promise that a person will win something. All they have to do is share your promotion, or subscribe to your YouTube channel or visit your other offer, or all of the above.
Here is an example of a "website" that you will be building with DFY Profitz: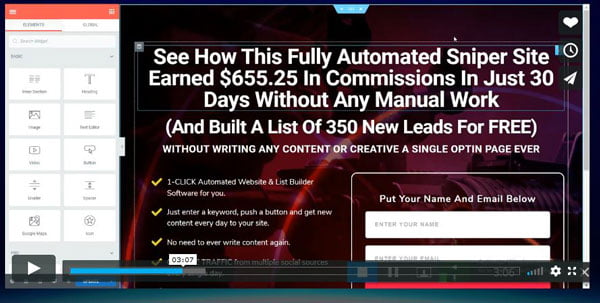 So basically you'll be setting up pages that promise to make people rich if they give you their email. Once they give you your email you will start bombarding them with other "Get Rich Quick" products.
It needs to be said that WordPress is free, thousands of templates (such as one in the screenshot above) are also completely free. If you want to build an e-mail list, you will need to pay for Aweber or Mailchimp or whatever other provider you chose. However, you do not need DFY Profitz for any of that.
However, the biggest issue here is traffic. If you want people signing up for your email list or buying your products – you need targeted traffic. This means you need to get people who are actually INTERESTED in your offer. And how do you do that? DFY Profitz doesn't explain that.
There are basically 2 ways of getting TARGETED traffic:
Pay for it. Buy ads through Facebook, Google, Instagram, Youtube or any other platform. It is expensive, it takes time to learn this. You also can't run just any kind of an ad. There are many restrictions in place and ads like the one in the screenshot below will certainly not be allowed.
Free traffic. Also often referred to as organic traffic. This means that people find your website in the search engines such as Google. This is very doable but it usually takes a few months until Google starts ranking your website, provided of course that your website offers great, unique, high quality content. And you either need to pay someone to create that content or do it yourself (remember? you need to put in the time and the effort).
This is where DFY Profitz promises "free viral traffic". Basically their system will allow you to share your offer on social media websites. But let's be honest, who would click on that? Let alone give you their e-mail address or purchase any of those empty promises? The dfy profits "contest" system will ask your visitors to share your offer on their own social media accounts – that's what the creators call viral traffic. It is not viral by any means and most importantly it is not targeted traffic. Even if a few folks click on that link, chances are they will not convert.
Email marketing works. There is no doubt about it. However there is no magic system that will throw a bunch of loyal subscribers to you. You will need to earn those subscribers and that takes, yes you guessed it, time and effort.
Still Considering DFY Profitz?
I'd like to mention a few more things to help you make an informed decision. Have you noticed the timer on DFY Profitz website that counts down from 6 hours? Urging you to purchase NOW before price goes up?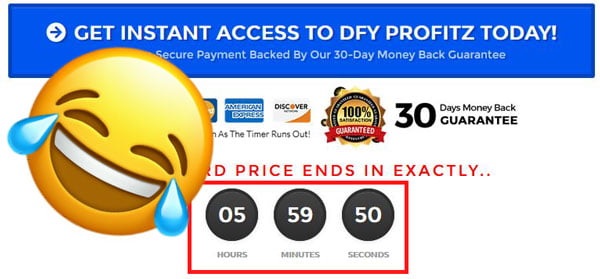 If you refresh the page the counter goes back to 6:00:00 and starts all over again. Yes, it is fake. In marketing this is called "false scarcity" and it's very frowned upon. No respectable company will use lies like this to force a potential customer into a sale. Do you still want to do business with these folks?
If you do purchase the "software", before you get to the actual product they will try really hard to upsell more products to you. They will say that DFY is great and all but if you actually want to make money you'll need to buy more products like Unlimited Profits Edition for $97, 100x Conversion Booster at $77, DFY Money Machines for $297 and several more for a total cost of $794. My advice is to stay away from any products with a bunch of upsells.
DFY Profitz is sold through WarriorPlus, a marketplace where a lot of info products are sold. If you look at the feedback from the actual clients, it's about 2.5 stars out of 5.

If Mosh Bari and Jason Fulton names ring a bell it's because you might have heard of their other "software" programs such as TraffixZ, OMG Profitz, Ez SalaryZ, TrazeAll, ShopZPresso  and others. All of these products have very similar claims, upsells, sales pages and so on.
Is DFY Profitz a scam? Not really, because they do give you access to a platform that allows you to build those pages. However, you should be worries about their income claims.
Can You Make Money Online?
Certainly! In my podcast I've interviewed over a 100 successful entrepreneurs who built online businesses. Over the past 13 years I've made a living off of affiliate marketing. I've built websites for clients and offered SEO services. I started a t-shirt business, manufactured my own products and sold them through Amazon FBA. Some of these ventures were very successful, some failed – but money can be made. When I started I didn't know a single thing about making money online, but I was willing to learn and got most of my knowledge about affiliate marketing here.
If you are willing to put in the time and effort you can check out my free course. I initially built it for friends and family as I got fed up with explaining what exactly I do 10 times a week. However I have opened up the course to general public. No, I do not need your credit card, it is actually free.